Derry woman with learning difficulties faces eviction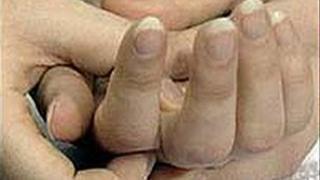 The Western Health Trust and Apex Housing Association will meet on Friday to discuss the planned eviction of a Londonderry woman with learning difficulties.
Vivienne Peoples's family said Apex had told her to leave her home in Belmont Cottages, because of her behaviour.
The housing association said the best interests of residents were paramount.
However, the disability charity, Destined, said the way the issue had been dealt with was "shoddy".
Nicola Peoples said her sister had been given seven days to get out of her home, taking her belongings with her.
"If she hadn't got them out within seven days, they were going to put her stuff into storage and then charge her for it," she said.
"They expect Vivienne, who has the mental age of a three to five year old, to understand what's in this letter that's addressed to her.
"It's inevitable that she's going to be left homeless."
Dermot O'Hara, from the charity Destined, which works with people with learning difficulties, said he hoped senior management of the trust and Apex could resolve the issue by providing a package of support for Vivienne in her own home.
"It was just very shoddy," he said. "It was shocking the way they dealt with it."
In a statement Apex Housing Association said it could not comment on individual cases in the interests of confidentiality.
"The needs and best interests of all residents are paramount. Our services are delivered in compliance with the relevant regulatory requirements," the association said.
In a statement, Trevor Millar, Director of Adult Mental Health and Disability Services with the Western Health Trust said: "The Trust always acts in the best interests of clients, working with the person involved, their family, service providers and other representatives and advocates."