Hussey condemns use of renal donations to buy art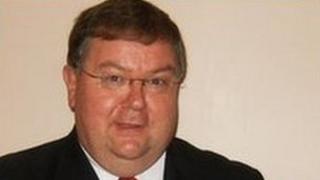 An Ulster Unionist MLA has condemned the use of £20,000, donated for a renal unit, to buy artwork for a new acute hospital in Enniskillen.
Ross Hussey said the decision to take the money from the Western Trust's Renal Fund was "morally indefensible".
The Western Health Trust has defended its decision.
It said there was a "clear body of evidence" that art works contributed to the therapeutic process and stimulation of senses.
Mr Hussey is calling on the trust to give the money back.
"I cannot see how they can justify it," he said.
"It equates to if someone gave a pound to the Royal British Legion poppy appeal and then found it had been given to the Royal Society for the Prevention of Cruelty to Animals.
"Here we have money which was given for a specific purpose, which was the renal unit in Omagh, and then diverted by this trust.
"I think they have acted in very bad faith."
The Western Health Trust said the artwork would "enhance the environment for patients and visitors, and create appropriate settings to alleviate stress and contribute to the healing process".
It said it had used £20,000 from the Renal Fund, leaving a balance in the fund of approximately £200,000.
Contributions from other endowments and gifts funds will also support artworks in the new acute hospital for the south west.
"There are some who say that looking at art will help the healing process," Mr Hussey said.
"But again, if the Trust felt that, they should have ensured they had adequate money to pay for such art instead of taking it from a specific fund."