Colhoun search uses hi-tech scanner for first time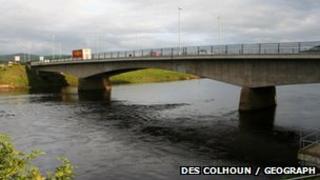 A hi-tech scanner has been used for the first time in Northern Ireland in the search for a missing Lifford man.
Extensive searches of the River Foyle have been carried out for David Colhoun.
The 22-year-old has not been seen since escaping from police custody after being arrested for minor offences in Strabane in May.
The equipment was used to scan nine miles of the river bed around Lifford and Strabane, without success.
John Wolf, Chairman of Mallow Search and Rescue in County Cork, said the scanner was a form of sonar.
"It bounces signals off the bottom of the lake, sea, or river, whatever you're using it on," he said.
"You have a laptop in the boat and you're reading the bottom of the river as you go along, scanning, and you can see everything down there as you go along."
Mr Wolf said the scanner had been used successfully in County Cork, and he had been keen to offer help.
"It's a terrible tragedy for the family, not having a body to take home and bury, so we didn't mind coming up and giving them a hand with it," he said.
"We knew it was a long shot, and we explained that, but it was a shot worth taking, I suppose.
"The result wasn't great, I'm sorry about that, but that's the best we could do with it."