US marines museum at Derry hotel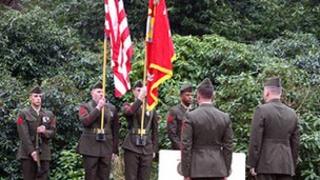 A hotel in Londonderry is to be awarded more than £90,000 to create a museum commemorating the US marines who were stationed there during World War II.
More than 1,000 top-secret files relating to the US presence will be released by the Pentagon and stored at the Beech Hill Hotel.
The hotel has been awarded a grant of £93,909 by the Department of Agriculture and Rural Development.
Among those attending the launch on Wednesday is the American deputy consul-general in Northern Ireland, Kevin Roland.
"These documents will shed light on the everyday life of the marines and their interaction with the people of Derry-Londonderry," he said.
"During the Second World War the marines provided the function of guarding what was perhaps the largest and strategically most important US naval base in Europe at that time."
Mr Roland also said the project would bring more American visitors to the city.
"Many people are looking back at the military history of their fathers and grandfathers and tracing it back to the Second World War," he said.
"This project really adds an excellent bit of cultural heritage to genealogical research as well."
Marines have been coming over to Derry to hold commemorations at the hotel every year for the last 10 years.