Farmer saves pigs in Tyrone flood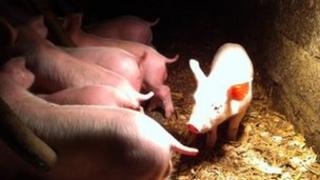 Sixty pigs have had a lucky escape from a Tyrone farm after their shed was flooded following torrential rain.
Clady farmer Andy Maxwell carried the pigs two-by-two to safety after the farmyard became filled with 4ft (1.2m) of water on Monday.
Mr Maxwell said he had to fight his way through the water to get the pigs out after his son raised the alarm.
"I started lifting the pigs and running up the road with them.
"Towards the end, I was afraid to come through the water. It was very dangerous.
"When the fire service arrived, they would not let us near the yard.
"The water was so high. It was like a river."
Mr Maxwell said three pigs and two piglets drowned in the flood.
The 60 who survived the ordeal were given some special treatment to help them recover.
Pigs in a blanket
Mr Maxwell brought them to a disused house on the farm to warm the pigs up.
"We put them on carpet and we put the little ones on top of an old three-piece suite," he said.
"They cuddle up for their own heat and we got them blankets. If temperatures go down, pigs can die very easy."
Mr Maxwell praised the fire and rescue service for its quick response.
"The water was getting higher by the minute. The firemen did very well, no doubt about it.
"Without them, I do not know what we would have done."