Derry teenager 'traumatised' by city centre attack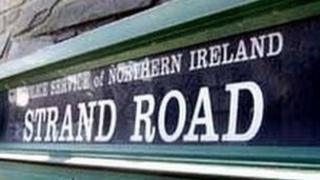 A 14-year-old girl from Londonderry has said she has been left traumatised after being attacked by a gang in the city centre.
Michaela McGillion was pulled to the ground by her hair and kicked in the head and back.
She was with three friends on Strand Road on Sunday when she was heckled by a group of teenagers.
The police are investigating the assault.
Ms McGillion sustained bruising and a suspected fracture to her nose.
She said she was walking with her friends when a group of people started yelling abuse at them.
"We just carried on and tried to ignore them.
"A girl came up behind me and pulled a hat off the back of my head. She grabbed me by the hair and started throwing me about.
"I tried to fight back but because she was older than me and was of a bigger build, I just gave up really.
"She ripped the earrings out of my ears.
"I thought the best thing I can do now is get on the ground and cover my face."
'Distraught'
Ms McGillion said she received blows to her head and back.
"It was really painful to the point where I started crying and screaming for them to stop".
Her father John McGillion said he was distraught when he saw his daughter.
"I burst into tears. It is not something I would like any parent to go through.
"Youngsters should be able to go to the city centre and have a peaceful day."