Floods cause havoc across North West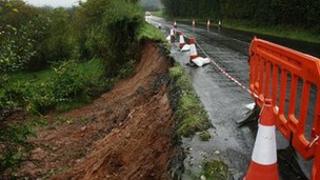 Nearly 20 people were rescued from their flooded homes in County Tyrone on Tuesday night, as heavy rain caused havoc across Northern Ireland.
In Beragh, the river burst its banks and left people trapped in their houses.
Eighteen people, including two young children, were brought to safety by boat.
In Strabane, fire crews came to the rescue of a disabled person in the Melmount Road area.
Sinn Fein Councillor Jay McCauley said the biggest problem was getting to access to sandbags, and all the emergency numbers seemed to be constantly engaged.
He said he was with one family whose home was flooded.
"We were trying to contact the Housing Executive because people couldn't put on the electric and so we had to get alternative accommodation," he said.
"There are three young children in the house as well. It's upset that family and, with only eight weeks until Christmas, these people don't know where they are.
"There was up to two feet of rain in the house. It was pretty bad and they ended up staying with relatives."
'Stench'
In Sion Mills, community worker Andy Patton said the rain came into about six homes.
"The Rivers Agency came with sandbags and we formed a human chain and passed them along," he said.
"The stench from the water and the sewage was awful. Some of the water was actually going across into Church Square."
One of the worst-hit locations in Londonderry was Old City Close, in the Brandywell area.
Residents used yard brushes to clear leaves and debris from drains.
One said: "The whole street got together. It was a whole community approach to it and we all did our bit.
"Only one grating was working; if it hadn't been for that, the houses would have been flooded.
"It was a matter of luck and good neighbours. I'm very concerned because I have two young kids in the house and many people here have young kids too. It is very worrying."