Northern Ireland universities could charge £9,000 fees from GB students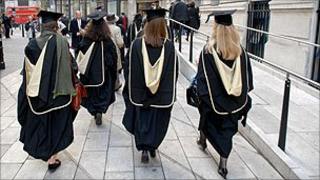 It is understood legislation is being prepared to allow Northern Ireland's two universities to charge students from Great Britain up to £9,000 fees.
Local students' fees would stay at the current level of about £3,000.
The legislation could be tabled by the Department of Employment and Learning next month and would require assembly approval.
The issue of tuition fees is one of the biggest challenges facing the executive this term.
There appears to be broad consensus that tuition fees, currently around £3,000, should rise no more than inflation.
This would cost £40m a year and the money would have to be found to cover this.
Also, if fees in Northern Ireland are effectively capped, there could be soaring demand from students in England, where universities are preparing to charge up to £9,000 for courses.
That is why the department is drawing up legislation to enable Queen's and the University of Ulster to charge higher fees for students from Great Britain.
Even if the assembly agrees to such a measure, there is a potential legal problem as there is already a legal challenge to Scottish universities charging students from Great Britain fees while Scottish students and those from other European Union countries do not pay.
The next executive meeting is on 8 September.
It is not clear whether the DEL paper, outlining options for tuition fees, is going to be discussed as the agenda has not yet been agreed.