Thieves in Londonderry steal funeral car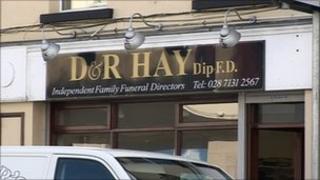 Thieves have stolen a funeral car from outside an undertakers in Londonderry.
The car was being prepared for a funeral when it was taken from outside the premises on Spencer Road on Thursday.
Wreaths from inside the car were later found on Chapel Road and the Old Strabane Road.
Undertaker David Hay said that at about 1900 BST he had been loading flowers into the vehicle to take to a bereaved family when the theft took place.
"I went back inside to get the last wreath and a lady that has a shop next door came running in to say that the car had taken off at high speed with the tailgate still open," he said.
"We're just totally devastated. My wife has been up from half-six this morning trying to get the order made up again."
Mr Hay said that a taxi driver who had seen the car believed it had travelled towards Corrody Road or Woodside Road.
"It's a V70 Volvo with blacked-out windows in the back and no back seats. Someone is bound to have seen a black Volvo with the tailgate open and wreaths inside travelling at high speed."
Police have asked anyone with information about the incident to contact them.