Police probe Newtownabbey arson attack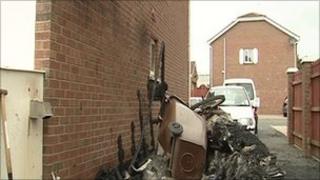 Two women have escaped uninjured after arsonists set fire to a garden shed at the back of a property in Newtownabbey.
The attack at Abbeyhill Way happened at about 0200 BST on Sunday morning.
A neighbour, former Irish League footballer Mark Glendinning noticed the fire, which spread to an oil tank, and alerted the two women inside the house.
Two neighbouring houses were also evacuated as a precaution. Police have appealed for witnesses.
Mr Glendinning said he was relieved no-one had been hurt as a result of the fire.
"I have to be honest it was my young lad who woke us up and if he had not woken us up, you are saying 'what could have happened?'," he said.
"I don't like to think of it to be truthful."