Shots are fired at Londonderry home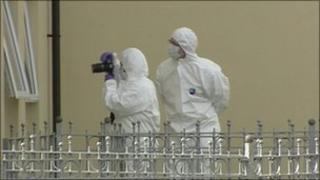 Shots have been fired at a house in Londonderry.
Four masked men went to the house in Dove Gardens shortly before 2300 BST on Tuesday. A number of shots were fired at the door.
Two men were inside at the time, but neither was injured. A short time later, petrol bombs and other missiles were thrown at police officers investigating the incident.
One officer sustained a leg injury after being hit by a stone.
Marie Gilmore, who lives in the area, said around 50 young people were involved in the rioting in the Bogside cul-de-sac.
"It was bedlam last night. Bottles, stones, petrol bombs. It was just horrendous," she said.
"There are elderly residents here who were absolutely terrified. The petrol bombs were flying. How the elderly people survived, I don't know."
Acting Chief Inspector Jon Burrows said police wanted to trace the movements of a dark coloured car that left the scene at about 2245 BST on Tuesday.
He said that police did not know what the motive for the shooting was, but that it was "clear that the community do not want armed men coming to their neighbourhood and firing shots".