Londonderry priest calls for talks with dissident republicans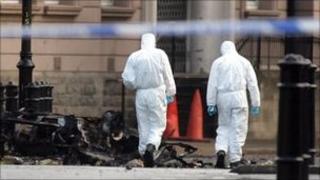 A Catholic priest in Londonderry has made a call from the pulpit for talks with dissident republicans to begin.
Father Paddy O'Kane, from the Holy Family church, said if the groups rejected dialogue then they should be "pushed to the margins of society'".
"In the past we tried to demonise the IRA, it got us nowhere," he said.
"It was only when we reached out to the IRA and tried to work with what was good and upright and honourable in them that progress was made."
Speaking to his congregation in Ballymagroarty on Sunday, Father O'Kane said he had met with dissidents himself four years ago, when he was asked to intervene to stop a planned robbery and kidnapping.
"Mercifully, their plans were scuttled, no one was taken hostage and no robbery took place," he continued.
"The men I met seemed respectful and courteous - I could talk to them. Perhaps I was being fooled, but they came across as honourable and reasonable men.
"Just as we're talking to the Taliban, a day is going to have to be reached when we talk to these people and try to deal with what is upright and honourable in them."
Father O'Kane also called for Oglaigh na hEireann, the group which claimed responsibility for the bomb attack on the Strand Road police station in Derry on 3 August, to explain their actions.