Man charged with burgling home of Derry's bishop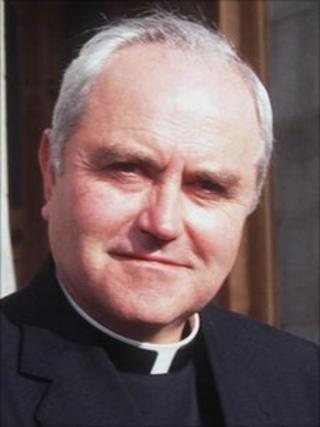 A court in Derry has heard how the city's Catholic bishop was confronted by an intruder in his bedroom.
Dr Seamus Hegarty said he believed the man was carrying a weapon at the time.
The details emerged as Declan Devine, 32, appeared at Londonderry Magistrates Court on Monday charged with stealing items from the bishop's house.
Mr Devine, of Bloomfield Park, Galliagh, was granted bail and ordered not to contact the bishop or go near his home.
He denies entering the bishop's house on the Buncrana Road on Friday as a trespasser and stealing several items.
The court heard how Bishop Hegarty told police that he was awakened in the early hours of the morning and saw a man standing in his bedroom doorway.
The intruder asked the bishop how to get out of the house and Dr Hegarty replied: "By the back door."
The man then left. Shortly afterwards the bishop discovered that a number of items were missing, including his ring, his wallet and watch, a set of rosary beads, some antique coins and two bottles of alcohol.
The court was told that the bishop's credit card was later recovered from a fire near his house.
Police found some of the other stolen items in the defendants home.
He was arrested after he contacted police.