Londonderry holds first Gay Pride parade on Saturday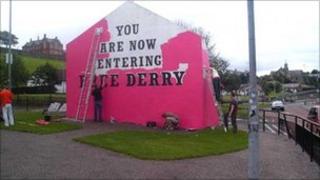 Londonderry's first ever gay pride parade is to take place on Saturday.
The organisers have called it "a major step forward for the Lesbian Gay Bisexual Transgender and Questioning (LGBTQ) community in Derry".
The parade will follow the route of the 1968 civil rights march from Duke Street Railway station to Guildhall Square.
SDLP MP for Foyle Mark Durkan urged people to attend the march and confront homophobia in the city.
He said: "As a community we can show our solidarity with those who suffer this awful prejudice - both the latent homophobia of prejudiced remarks and the blatant homophobia of violent attacks - by attending and supporting this week's events and this important parade."
However, Reverend Jonathan Campbell from Newbuildings Independent Methodist Church said the planned parade would be an "obscenity".
Rev Campbell said: "Homosexuality brought down the ancient civilisations of Rome, Greece, and Egypt. It will be our downfall too."
He has called on parents to keep their children away from the "dark cloud" hanging over Derry on Saturday.
David McCartney of gay rights organisation the Rainbow Project disagreed.
"A dark cloud? This city hasn't seen such good weather all summer. God is shining down upon us and we're going to have a wonderful day.
"I would ask the Reverend Campbell, with a genuine spirit, to come and talk to people about their lives and listen to people's experiences," he said.