Dunbar and Toby Jones feature in Beckett Festival return
By Rebecca McGirr
BBC News NI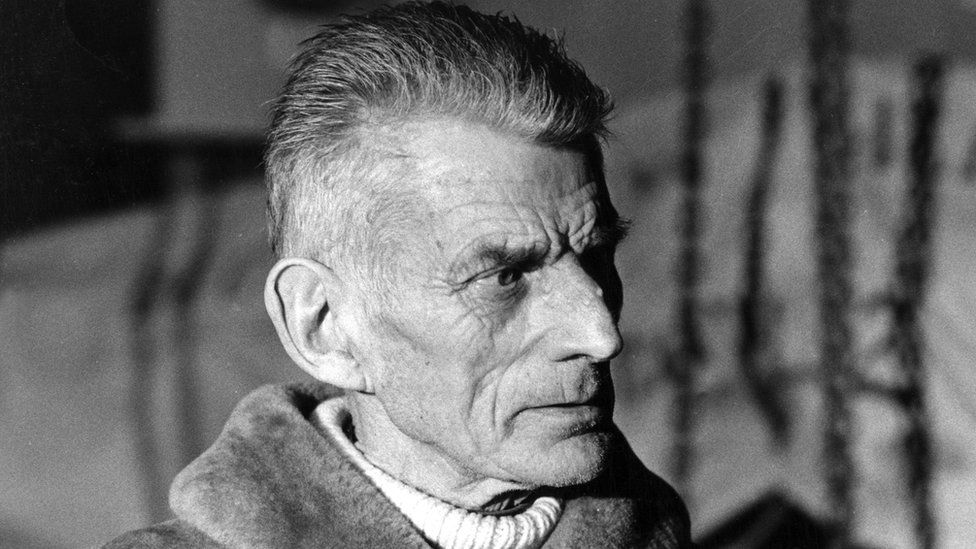 "It's great to see the likes of Toby Jones coming to the festival, a great Beckett fan and a fabulous actor."
Dunbar, now best known as Line of Duty's Supt Ted Hastings, is originally from Enniskillen and has been involved in the festival from the start.
Now celebrating its 10th anniversary, the five-day festival celebrates Samuel Beckett's time in Enniskillen.
The Irish Nobel Laureate spent his formative years at Portora Royal School, now Enniskillen Royal Grammar from 1920 to 1923.
Toby Jones, the voice of Dobby in the Harry Potter films, Dr Zola in Captain America and Lance in the Detectorists, appears twice on the festival programme.
On Saturday he will perform a short piece of Beckett's prose in the Breandrum Chapel of Rest in Enniskillen and on Sunday morning he will take a boat out to Devenish Island with his audience.
There the pilot will switch off the engine, and the boat will drift as Jones reads two sections from the end of Beckett's Krapp's Last Tape.
The festival will also feature local and international talent including BBC's Conversations with Friends Tadhg Murphy, Dame Sarah Connolly, Fleur Barron and Liam Ó'Maonlaí.
A range of local venues are featured in the festival including the Marble Arch Caves, an upland mountain bog, the Regal and Enniskillen Royal Grammar.
Dunbar's interest in Beckett was sparked when he saw a production of Waiting for Godot while studying at the Guildhall School of Music and Drama in London.
"Beckett disappeared off my radar for a while after that, but when the festival arrived it rekindled my interest in him," he told BBC News NI.
"I wanted to get behind the festival because I felt it would be a wonderful fit for the town of Enniskillen, the town would respond to it, and so it has."
Dunbar will direct a 12-minute play taking place on the 9th century monastic Devenish Island starring Vincent Higgins and Lalor Roddy as the Reader and Listener.
An intimate audience, a maximum of 48 people, will be transported by boat to the island at sunset.
"Ohio Impromptu really suits being done I believe on the island as it mentions the Ile aux Cygnes which is an Island in Paris that both Joyce and Beckett used to walk along chatting to one another.
"I think it's a beautiful experience and I think that it is one of the major things that makes the festival successful is these experiences you have engaging with Beckett's work because the work is curated in very interesting places."
Beckett in Folkestone, a newly commissioned work which has never been seen before in Ireland will also feature at the festival.
It tells the imagined stories of three people who may have encountered Beckett in Folkestone in 1960 when he travelled there to marry his long-time partner.
A series of three monologues will be delivered in venues across the town including Blakes of the Hollow and Enniskillen Castle.
The audience will hear from a receptionist, journalist and a wedding witness.
Festival founder and artistic director Seán Doran said he was delighted to be bringing back the international festival after a three year enforced silence by Covid-19.
"It is a truly special festival, attracting not only international names and faces but also audiences from across the globe," he added.
The Happy Days Enniskillen International Beckett Festival will take place from 21 July to 25 July.