Brandon Lewis: Ex-NI secretary's term will be remembered as 'specific and limited'
By Enda McClafferty & Mark Simpson
BBC News NI political editor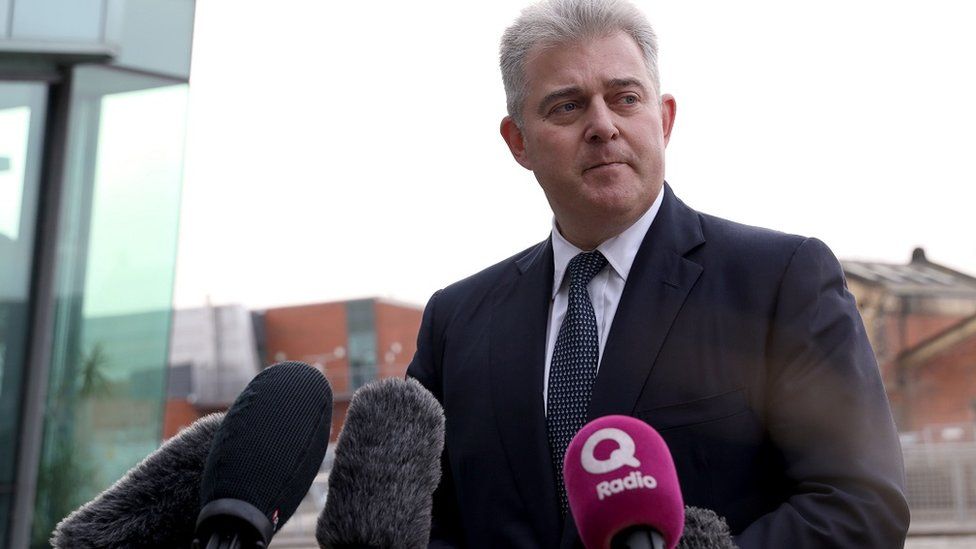 Brandon Lewis' stand-out quote came while he was on his feet in the House of Commons in 2020.
His legacy in Northern Ireland could be remembered in the same way.
Limited because he only spent only two-and-a-half years in the job and much of that time focused on dealing with the pandemic.
But there were specific stand-out moments, some of which will be remembered for all the wrong reasons.
The protocol, part of the 2019 Brexit deal, keeps Northern Ireland in the EU's single market for goods, preventing a hard border with the Republic of Ireland.
But it means checks on some items that come into Northern Ireland from other parts of the UK, creating a trade border in the Irish Sea.
When the government stance on the protocol changed and it demanded its renegotiation, Brandon Lewis needed to talk up the very same Irish sea border which he denied existed.
It was an uncomfortable U-turn and not the only time he was forced to change direction.
NI Secretaries… gearing up for a fifth in six years

July 2016 - James Brokenshire (under Theresa May)
Jan 2018 - Karen Bradley (May)
July 2019 - Julian Smith (Johnson)
Feb 2020 - Brandon Lewis (Johnson)
July 2022 - ?????

— Jayne McCormack (@BBCJayneMcC) July 7, 2022
His predecessor Julian Smith, together with the Irish government, had managed to steer the parties back into government after three years in the wilderness - so there was no obvious role for the new man in the castle.
His supporters will point to the interventions he made.
But when it came to the problem of how to deal with the past, Brandon Lewis managed a rare feat for a secretary of state - uniting the political parties and victims groups in Northern Ireland.
That came after his controversial legacy legislation, which proposed to end all Troubles-related prosecutions and close down investigations including inquests and civil cases.
While he did manage to steer Northern Ireland through its centenary year with relatively little controversy, the Northern Ireland Executive collapsed on his watch, with all efforts to put it back together again failing thus far.
Away from politics, Brandon Lewis is keen on cycling.
He'll have more time for that now, after resigning from his job as Northern Ireland secretary, which, to put it mildly, was not an easy ride.