Boris Johnson: Shailesh Vara replaces Brandon Lewis as NI Secretary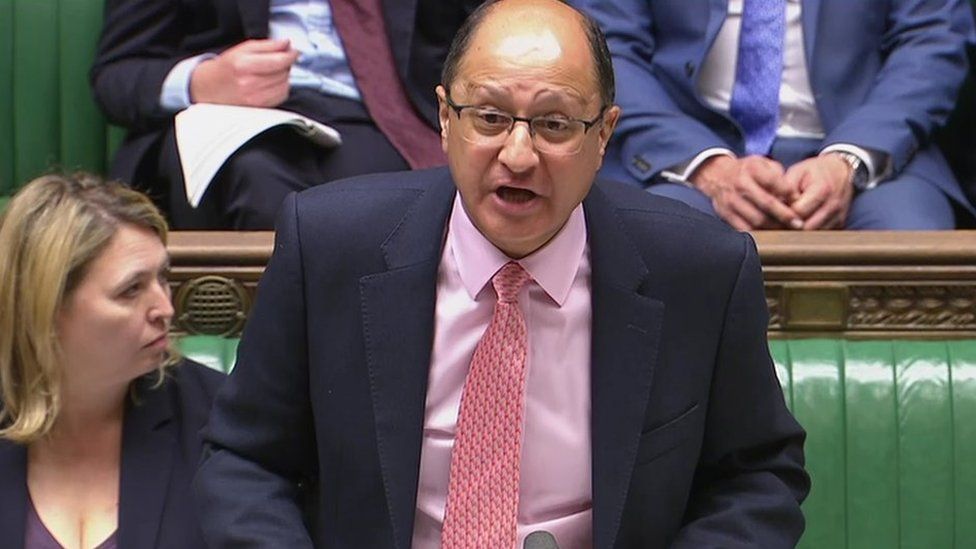 Shailesh Vara has replaced Brandon Lewis after he resigned as Northern Ireland secretary.
Mr Lewis was among previously-loyal cabinet ministers who told the prime minister on Wednesday that he needed to step down from office due to a loss in support.
Mr Vara has already begun speaking to political leaders in Northern Ireland on the phone on Thursday.
In a tweet, Sinn Féin's first minister designate Michelle O'Neill said she told Mr Vara that "however short he's here, his duty is to respect the assembly election outcome and to work constructively to get Stormont moving so a local executive can set a budget and help workers and families".
Mr Vara said he had spoken to Ms O'Neill as well as Democratic Unionist Party (DUP) leader Sir Jeffrey Donaldson, Ulster Unionist Party (UUP) leader Doug Beattie and Social Democratic and Labour Party (SDLP) leader Colum Eastwood after his appointment.
He said he looked forward to speaking to other parties in the coming days.
"My immediate priority is the restoration of the Northern Ireland Assembly and Executive as soon as possible," he tweeted.
He said he had had a good conversation with Irish Foreign Secretary Simon Coveney and looked forward to working with him to restore the Stormont institutions.
"The squad should be incredibly proud of their hard work and achievement," he tweeted,
Mr Vara was previously a minister in the Northern Ireland Office for five months before quitting in protest at former prime minister Theresa May's proposed deal with the EU in November 2018.
He described his return to the Northern Ireland Office as a "huge privilege".
A huge privilege to return to the Northern Ireland Office as Secretary of State. Having served previously in the Department I recognise the immense contribution of Northern Ireland, and its people, to the UK and I look forward to representing those interests at the Cabinet table.

— Shailesh Vara MP (@ShaileshVara) July 7, 2022
Brandon Lewis became Northern Ireland Secretary in February 2020.
Mr Lewis tweeted on Thursday that a "decent and responsible" government relies on "honesty, integrity and mutual respect".
He said it was a matter of profound personal regret that he "must leave" government as "I no longer believe those values are being upheld".
Shailesh Vara was a little known Northern Ireland Office minister in 2018 until he delivered the first blow against Theresa May's Brexit deal.
He resigned after just five months in the job, because he said the proposed deal would leave the UK in a "halfway house" with the EU - still obeying its custom rules.
He also warned that Northern Ireland would be subject to a "different relationship with the EU from the rest of the UK" and he added the "constitutional integrity of the UK must be respected".
But Mr Vara later voted for the Theresa May proposals - if reluctantly.
Almost four years on, he will now be the man steering the government's controversial protocol bill through the House of Commons over the next fortnight.
And if he is given the job of secretary of state full-time, when the next leader comes along he will oversee its passage into law.
As a hardline Brexiteer his appointment will please the Democratic Unionist Party (DUP) and other unionists hoping to see the protocol changed.
But much will depend on who his new boss will be in Number 10.
In his letter to the prime minister, Mr Lewis said a decision to leave government is "never taken lightly particularly at such a critical time for Northern Ireland".
He said he had "served loyally" and defended the government "both publicly and privately".
A decent and responsible Government relies on honesty, integrity and mutual respect - it is a matter of profound personal regret that I must leave Government as I no longer believe those values are being upheld.

I have submitted my letter of resignation to the Prime Minister. pic.twitter.com/EG6u52BdDc

— Brandon Lewis (@BrandonLewis) July 7, 2022
"We are however, now past the point of no return.
"I cannot sacrifice my personal integrity to defend things as they stand now.
"It is clear that our party, parliamentary colleagues, volunteers and the whole country deserve better."
Mr Lewis was the fourth cabinet minister to quit.
The prime minister sacked Levelling Up Secretary Michael Gove in a shock move on Wednesday,
His sacking came after more than 40 ministers and aides resigned - a record for a 24-hour period.
A new prime minister will be in place in time for the Tory party conference in October.
A Conservative leadership contest will take place this summer, and in the meantime, Mr Johnson will continue as a caretaker prime minister.
Analysis: Big moments and limited time for Lewis
Brandon Lewis' stand-out quote came while he was on his feet in the House of Commons in 2020.
Speaking to MPs about the government's plan to break international law in amending the Brexit deal with the EU, he said the plan was to do so in a "very specific and limited way".
His legacy in Northern Ireland could be remembered in the same way.
Limited because he only spent two-and-a-half years in the job and much of that time focused on dealing with the pandemic.
But there were specific stand-out moments, some of which will be remembered for all the wrong reasons.
Northern Ireland Office minister Conor Burns tweeted on Thursday that he would lead for the government at the meeting of the British-Irish Council on Friday.
He said it was vital that the job at the Northern Ireland Office "continues to be done".