Irish Travellers 'least likely' to enter university, says HEPI report
By Robbie Meredith
BBC News NI Education Correspondent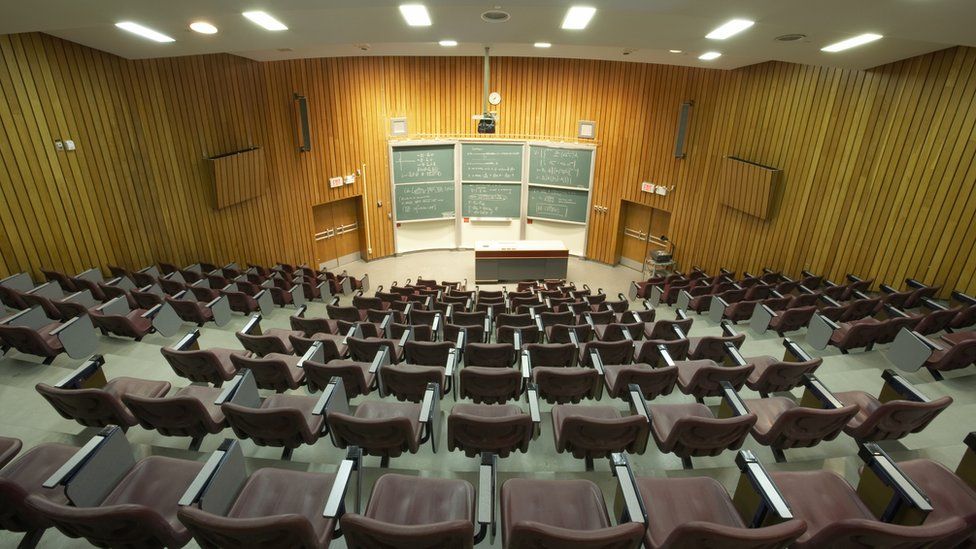 Update 12th July 2022: The Higher Education Policy Institute has since said 10.7% of Irish Travellers in the UK access higher education by the age of 19 and 6.9% of Gypsy or Roma young people.
Young people from the Irish Traveller community are the least likely to enter higher education in the UK.
That is one of the findings from a new report into the education of Gypsy, Roma and Irish Travellers in the UK.
The report, from the Higher Education Policy Institute, said the low figures did not reflect the "huge desire" for education among the community.
It also said that Irish Travellers still faced "many barriers when accessing mainstream education".
Travellers representatives told BBC News that was causing a "mental health crisis" in the community.
In Ireland, for instance, 11% die by suicide and life expectancy is up to 15 years shorter than the wider population.
The research from the think-tank Higher Education Policy Institute (HEPI) looks specifically at the experience of members of the Irish Traveller, Gypsy and Roma communities in education in the UK.
It was carried out by Dr Laura Brassington from HEPI, who said that members of those communities "still face exclusion from education".
According to the study, less than 4% of Irish Traveller students in the UK enter higher education.
That compares to about 6% of young people from Gypsy and Roma communities and about 37% of all 18-year-olds in the UK.
There were only 660 young people from Gypsy, Roma or Irish Traveller backgrounds at university in the UK in 2020-21.
The report said the low numbers of Travellers in higher education "should be of grave concern for the education sector".
It is estimated that there are between 250,000 and 300,000 Gypsies and Irish Travellers in the UK.
About 60% of those communities have no academic or professional qualifications - the highest proportion of any ethnic group in the UK.
But the HEPI report suggests that problems in education for pupils from those communities start earlier.
It cited a previous report by the Equality and Human Rights Commission in England, which found that Irish Traveller, Gypsy and Roma children often faced bullying in school and a lack of effective support.
It also cited research from the University of Birmingham, which suggested that just under half of the British public viewed Gypsies and Irish Travellers negatively.
"Poor outcomes for Gypsy, Roma and Traveller (GRT) students in education must be situated within the context of the prejudice and exclusion GRT individuals and communities face in wider society," the HEPI report said.
"Gypsies, Roma and Travellers suffer worse outcomes not only in education, but also in health, employment and other social issues, which - in turn - affect their success rates in mainstream education."
In Northern Ireland, according to separate statistics published by the Department of Education (DE), there are about 1,120 Irish Traveller pupils in schools.
That includes 717 in primary school, 271 in non-grammar post-primaries and 15 in grammar schools.
The HEPI report found there were about 6,200 Irish Traveller children in schools in England and Wales.
But it said there was evidence that some schools were excluding Irish Traveller children from important exams, and that they were among the least likely of all ethnic groups to stay in education after GCSEs.
They were also much more likely to be excluded from school, partly down to the bullying and racism some children from Irish Traveller backgrounds face.
The report also found that GRT children's education had particularly suffered during the Covid-19 pandemic as many did not have access to devices to take part in remote learning when schools closed.
It concluded that improving Gypsy, Roma and Irish Traveller "access to and participation in UK education requires sustained, long-term focus and solutions".
"At present, programmes aimed at widening access for GRT students are piecemeal and bottom-up," it said.
"There are no national targets, and there is no long-term agenda aimed at fair access, combating the racism GRT communities face every day, or improving GRT outcomes overall."
The HEPI report was produced with support from the University of Sussex.