Muckamore inquiry: Father believes 10-year-old got black eyes in assault
By Catherine Morrison
BBC News NI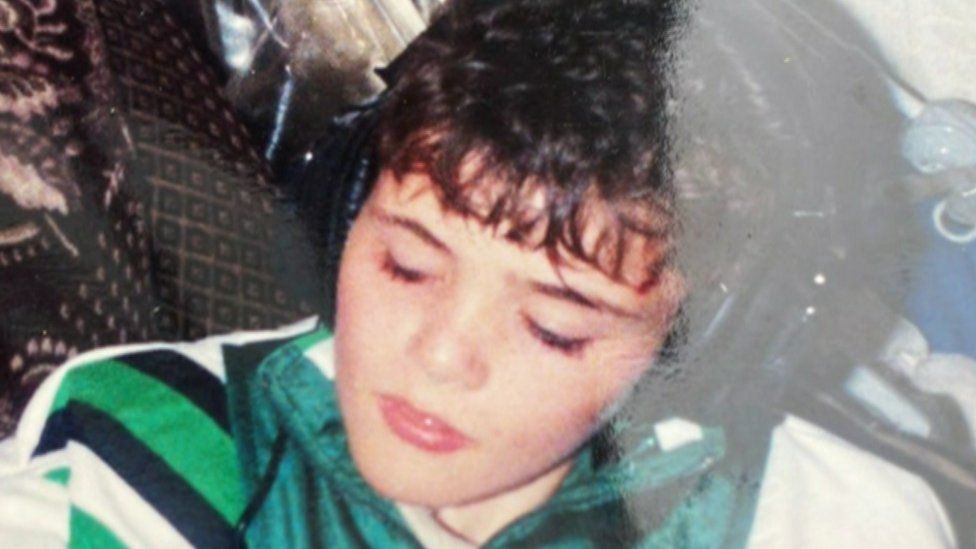 A man whose son was a former patient at Muckamore hospital has told a public inquiry about how he came home on a visit with two unexplained black eyes.
Michael Overend's son, also called Michael, was nine when he was admitted to an adult ward in the facility in 1989.
The family was told there was nowhere else suitable for him to go.
Michael is now 42 and has profound learning difficulties, autism, epilepsy and is partially blind and deaf.
He left Muckamore Abbey in November 1999 and his time there is just out of the timeframe that the inquiry is looking examining, which is December 1999 to June 2021.
However counsel for the inquiry chairman explained that Mr Overend's evidence could be heard because it can hear evidence from outside the timeframe if it is deemed useful to the panel.
Mr Overend's complaints regarding his son's care also fall within the timeframe of the inquiry's terms of reference.
It was in June 1990, when Michael was 10, that his parents phoned the hospital to arrange a visit home.
Mr Overend said Michael's mother was told his face was "a bit of a mess" and that he should stay at the hospital. She went to Muckamore and took him home.
"As soon as Michael came home, it was blatantly obvious he had two black eyes. I felt devastated when I saw Michael's black eyes because he could not defend himself," Mr Overend said.
"I knew he could not give those to himself. He has not had a black eye from June 1990 to date."
He added: "I believe Michael was assaulted and neglected by staff at Muckamore Abbey Hospital."
Mr Overend wanted to report it to the police but he was persuaded not to, in case Muckamore would not take Michael back.
"There was nowhere else for him to go. Full stop," Mr Overend said.
Michael does suffer from self-injurious behaviour but his father said it manifests itself in Michael hitting himself on the jaw.
At the time of the incident, his family did not make a formal complaint. They did however raise the matter in later years, after a news article about a Muckamore staff member being charged with assaulting a different patient.
Mr Overend said staff never explained how Michael got the black eyes, and in the late 1990s, he started raising queries with the hospital and health officials.
'Disgusted and heartbroken'
He asked to see his son's medical records - an X-ray of Michael's face was missing, but he did find a memorandum of the incident, which noted that the place where the injuries occurred was unknown, the cause was unknown and there had been no witnesses.
On other occasions, Mr Overend said when they visited Michael they would find him wearing adult clothes, many sizes too big, and that they also raised concerns about his medication.
On one unannounced visit to Muckamore, his father found him crying on the floor.
A nurse said he had been like that for a number of days, contradicting an earlier phone call from a staff member who told his family he was doing well.
Mr Overend said: "I knew then the ward sister had told us lies, that Michael was doing really well 24 hours earlier. I was disgusted and heartbroken."
Michael was discharged from Muckamore in November 1999. For some months prior to that, he had a core team of trained staff to support him.
His father said the core team was "great" and did a lot for Michael.
The inquiry will take a break over the summer and is set to return in September.