Boris Johnson: NI politicians react to Westminster resignations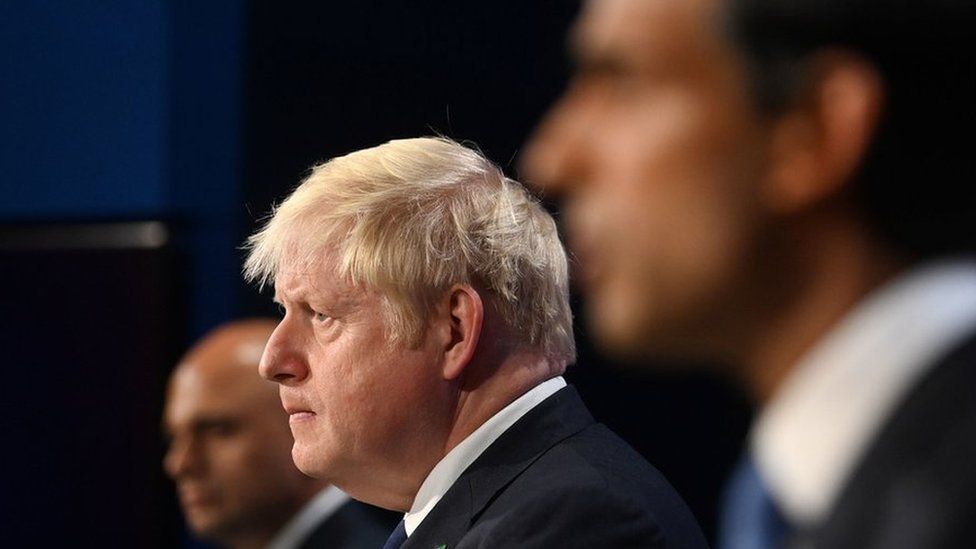 Politicians in Northern Ireland have been reacting to resignations in Boris Johnson's cabinet.
The chancellor and health secretary resigned from government, saying they no longer have confidence in the prime minister to lead the country.
They have been replaced by Steve Barclay as health secretary and Nadhim Zahawi as chancellor.
Visiting a Belfast school in Belfast on Wednesday, Mr Lewis maintained that Boris Johnson continued to have his support.
He said the prime minister had received an "overwhelming mandate" from voters in 2019 and from the Conservative Party.
He told reporters the government had a duty to "get on with delivering for people".
Northern Ireland Minister Conor Burns is also staying on - he said he holds an "enduring gratitude" to Mr Johnson for his appointment to the Northern Ireland Office.
Michelle O'Neill, Sinn Féin vice-president
Ms O'Neill said Boris Johnson had been "bad for the people of the north".
"He has failed workers and their families struggling with the cost of living," she said.
She added: "He has failed victims of the conflict and their families.
"He delivered the hardest Brexit possible against the wishes of the majority of our people, our political representatives and our businesses and he has torn up international agreements and shown contempt for international law.
"He has attacked the Good Friday Agreement, backing the boycott of our democratic institutions to placate Tory Brexiteers and the DUP in a desperate attempt to hold on to power.
"The current Tory chaos at Westminster is a daily reminder of the complete ineptitude and arrogance of this British government."
Sir Jeffrey Donaldson, Democratic Unionist Party leader
Sir Jeffrey did not comment directly on the news, describing the Conservative Party's leadership and "those who occupy cabinet positions" as a party matter.
"Our focus remains on working to see the removal of the Irish Sea border brought about through the NI Protocol," he said.
"Every day it remains, it is undermining our economy and constitution. Not one unionist MP or MLA supports the protocol," he said.
"The legislation, making its legislative journey through parliament, is important in seeing the removal of the protocol and is necessary if we are to see solid foundations upon which to re-establish devolved government in NI."
DUP MP Sammy Wilson backed the prime minister and said "stability" was needed in government instead of the "self-indulgence" of a leadership contest.
"What we need is stability, not this self indulgence of who should lead the Conservative party." Mr Wilson told GB News.
""We've got a prime minister, he was elected [...] with a strong majority, he is a flawed man. We know that in Northern Ireland, he's made promises he can't keep.
"Nevertheless, if you look at the overall picture, the country can't afford this indulgence at the moment."
Stephen Farry, Alliance Party deputy leader
Speaking to BBC News NI, Mr Farry said: "I never thought that Boris Johnson was fit to be prime minister in the first place but events have proven me and countless others right and he has really dragged down standards of integrity in public office and the norms of democracy in the UK.
"I certainly believe he has to go.
"He should have gone a long time ago but tonight I think it is inevitable that he has to go and do so very quickly."
Colum Eastwood, Social Democratic and Labour Party (SDLP) leader
Mr Eastwood described the prime minister as "an absolute disaster for Northern Ireland".
"He's breaking international law around the protocol," he told BBC News NI.
"He's breaking international law around the legacy proposals.
"He's looking to take us out of the ECHR. He doesn't care about Northern Ireland and the damage that he's done to the Good Friday Agreement.
"The sooner he is out the better."
Gerry Carroll, People Before Profit MLA
Gerry Carroll said it was "time for Boris Johnson to go".
The People Before Profit MLA said: "Boris Johnson should resign with immediate effect.
"As a prime minister he has been politically and morally bankrupt, presiding over a catastrophic handling of our economy and the pandemic; all the while partying while people died.
"His government's attacks on our NHS, tax breaks for the rich, and dithering in the face of climate catastrophe will all have devastating and lasting impacts".