Dark Hedges image wins World Landscape Photographer competition
By Rebecca McGirr
BBC News NI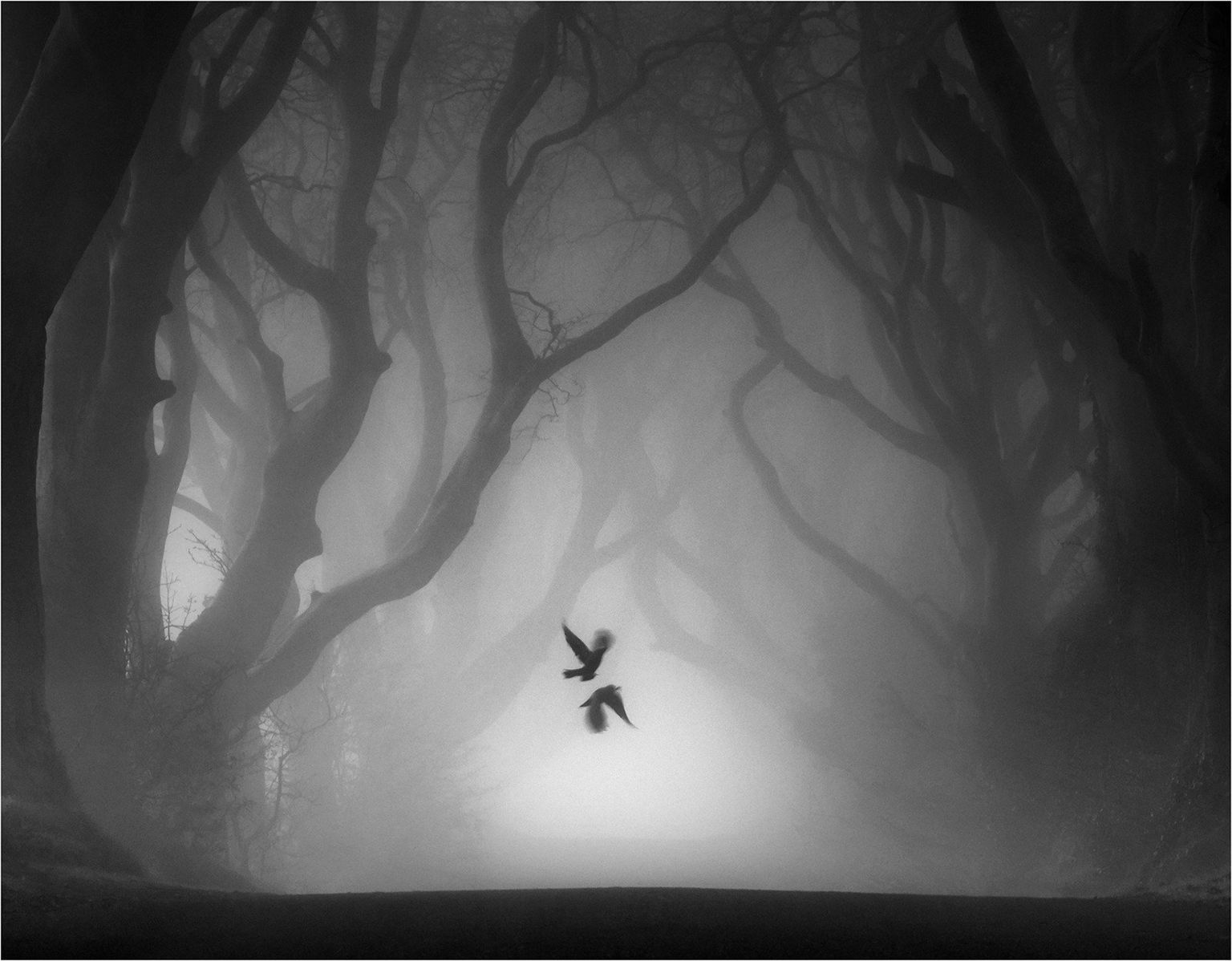 A ghostly image of County Antrim's Dark Hedges taken by a Belfast man has won a global photography award.
His black and white photograph, titled Souls Tied, depicts two birds flying into the centre of the well-known site.
He said he was "shocked and honoured" to have won for the image, taken on the morning of a friend's funeral.
One of the judges described the image as "a brilliant winner".
Another judge, Verity Milligan, said: "Just the woodland, the mist and the dancing birds. Magical. A special image and a worthy winner."
For him, there is a special meaning behind the photograph.
'Two birds flew into the frame'
On 11 April 2021, his wife's friend Lynsey sadly passed away after a five-and-a-half year battle with cancer.
She had been diagnosed with a brain tumour in October 2015, and was told she would be lucky to see Christmas that year.
Paul captured the image on the morning of her funeral, 14 April 2021.
"I was in the middle of the road shooting and the two birds just flew into the frame. I immediately thought of Lynsey and her husband Simon," he told BBC News NI.
"The title of the image came to me straight away and it fit the story behind it."
Last year, Paul held a draw on social media of a large art print of the now award-winning image in memory of Lynsey.
He raised more than £1,800 for the charity Brain Tumour Research.
He said he was "shocked and honoured" to have won the award and that it was his greatest achievement to date.
"Those that know me personally, will know how much winning this competition means to me.
"They will know of my passion to continue making images to please me first and foremost. For others to resonate with my work genuinely means so much."
The World Landscape Photographer competition was founded by photographer Nigel Danson with the aim of raising money for charity.
This year it helped to raise funds for the British Red Cross Ukraine appeal.