Muckamore inquiry: Lack of care at hospital 'led to arm amputation'
By Catherine Morrison
BBC News NI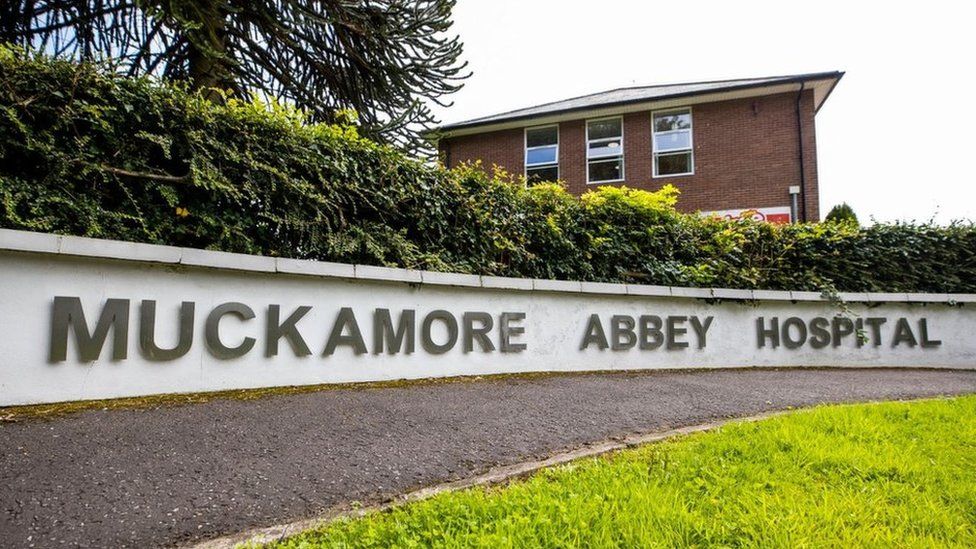 The brother of a former Muckamore Abbey hospital patient has told the inquiry he believes his brother's arm had to be amputated due to a lack of care from staff.
Stephen lived at Muckamore on and off from December 1988 to October 2013.
Stephen is now 53 and has Down's syndrome and various different needs. He requires 24-hour care.
When Stephen entered Muckamore initially, Ian said he was placed in a locked ward.
"It was like a prison," Ian said.
"There were a lot of violent patients. It was not appropriate for Stephen's needs, he never should have been put there."
Stephen was bitten twice by other patients and his brother told the inquiry the incidents were not investigated properly.
He was moved to another ward and spent some time in other nursing homes over the following years.
During a spell at one home, Ian told the inquiry that, as a punishment, Stephen would be told to sit against the wall and hit it with his arms.
When he returned to Muckamore, he continued to do that and his family believe he broke his arm as a result of that in 2013.
His brother told the inquiry he had several operations at the Royal Victoria Hospital in Belfast and subsequently developed a life-threatening infection.
"The doctor said he wasn't pleased with the care at Muckamore and they should have seen the infection," Ian said.
"On October 2, they told us they would need to amputate his arm to save his life."
The doctor at the hospital refused to release Stephen back to Muckamore and he now lives in a different home.
Ian said that Stephen's care at Muckamore overall was "ok", staff were good, but he added that the family did not realise what was going on behind closed doors.
"His broken arm was not treated properly by staff and I believe this caused it to be amputated. We were not told anything by staff about an investigation into how it happened. We reported it to police... they said it was a civil case.
"We were concerned that Muckamore staff didn't listen to us or investigate his broken arm.
"He can't speak for himself so we have to speak up for him."
'Over-medicated and in a vegetative state'
In another statement to the inquiry, a woman said her sister had been left in a vegetative state due to being over-medicated while at Muckamore.
The former patient, called P10 for the purposes of the inquiry, has severe learning difficulties and epilepsy.
She had treatment at Muckamore on and off between the late 1960s and 2003. She is now 64 years old and living in another facility.
Between September 2001 and April 2002, her parents made a formal complaint about her treatment.
She was admitted to Muckamore in 2001 after issues with low potassium and sodium levels in her blood. But while at Muckamore, her condition deteriorated. She couldn't walk, or feed herself and became a danger to herself, as she seemed unable to swallow.
Her sister told the inquiry: "We were told by doctors and nurses she was improving. But it was clear to us it was the medication prescribed by the doctors that was causing her to become in this state."
When P10 was eventually admitted to the Royal Victoria Hospital in 2002, a nurse told her sister she was "over-medicated" and "in a totally drugged and vegetative state".
Her health then improved so dramatically it was just "unbelievable" and within a week or two, she was back to her normal self.
Her parents complained and there was an official report produced. But they became frustrated as they felt they were not getting the answers required.
Her sister told the inquiry the family believes staff at Muckamore were "negligent" in their treatment of her sister.
'Strip-searched two or three times'
A statement was then read by a former patient, with the cipher P6.
The 42-year-old, who has a history of learning difficulties, autism, epilepsy and depression, was treated at Muckamore between 2016 and 2017.
She described being strip-searched by staff against her will.
"There were times I was taken into a separate room and raped by members of staff. When I say raped, I mean that they would make me take my clothes off and they would feel around my body with their hands.
"When I asked them why they wanted me to take my clothes off, they said it was to make sure I didn't have anything sharp on me.
"I do not remember the names of the members of staff who did this."
She said this happened two or three times.
One woman, who gave her name as Nicola, told the inquiry that she was shocked when she was told that CCTV cameras had captured two incidents of abuse in 2017 against her brother Greg, who was then a patient at Muckamore.
The family was advised he had been "mistreated".
She said it came as a huge shock because her family had no concerns about his care at Muckamore. They were generally happy with his treatment.
She added it was "wrong" that her brother and other vulnerable adults had had to through this "horrible ordeal" and said people must be held accountable.
The inquiry continues on Wednesday.