Covid-19: Further vaccinations likely in Northern Ireland in autumn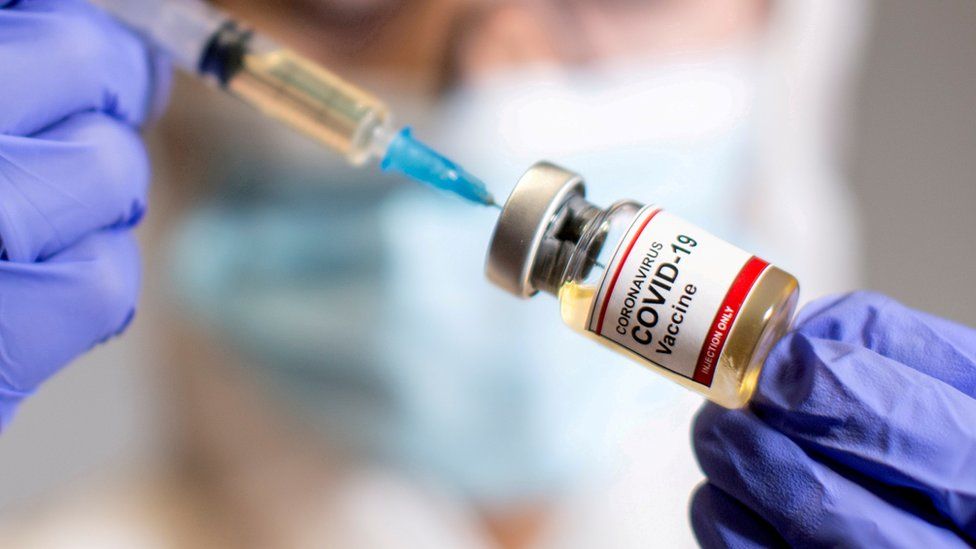 Some groups of people are likely to be offered further Covid-19 vaccinations this autumn, Northern Ireland's chief scientific advisor has said.
Prof Ian Young said it would apply to vulnerable people and those aged over 65, while health and social care workers would also be offered it.
The most recent population survey estimated that one in 25 people in Northern Ireland had Covid.
The current wave is being driven by the ba4 and ba5 variants of the virus.
Speaking to BBC News NI's Talkback programme, Prof Young said that past vaccines continued to provide protection against severe illness.
"Unfortunately, however, with the new variant, ba4 and ba5, people can become re-infected with those, even when they've been vaccinated," he said.
"Therefore, it's likely that we will offer updated vaccination, certainly to older people and those who might be considered vulnerable as we move into the autumn, just as we offer flu vaccines to those groups every year."
He said at the minute older people would be those classed as those over 65, but as more data comes in and is reviewed that age could lower.
"At the moment the forms of Covid that are circulating cause relatively mild illness in general in younger people," Prof Young said.
"So balancing everything up we don't think it will be necessary to offer otherwise healthy people an additional booster vaccination."
He added that "people are working hard in terms of developing and modifying the vaccines so that they provide better protection against these variants and future variants".
Prof Young said: "At the moment I think we are close to the peak of another wave of Covid caused principally by the ba4 and ba5 variants.
"One person in 25 was infected during the week in the course of the most recent population survey which typically lags one or two weeks behind where we are.
"I think it would be possible that those numbers will rise somewhat further before hopefully beginning to fall over the summer.
"Schools are off, I hope everyone is doing their best to keep windows open and get outside to take advantage of the fresh air and those things will help case numbers decline."
He said "quite a large number of people" are currently in hospital in Northern Ireland with Covid, although many would be in for other reasons.
"I think we're always concerned about the pressures our hospitals might be under," he continued.
"The number of patients in hospital with Covid is probably about two-thirds the level it was during the winter peak."
Prof Young said while upcoming events such as the Twelfth of July and Pride parades were coming up, the risk of transmission outside remains low.
'We don't have enough people'
The current Covid wave has been causing high levels of staff absence within the health care profession.
Dr Alan Stout, the chair of the GP committee of the British Medical Association, said there were "an awful lot of practices that are currently very compromised, not only with GPs being off, but actually, even worse, by a whole range of staff being off and at the moment trying to operate with 50% or less of their normal staff simply because they are off isolating".
He added: "We cannot balance the numbers at the moment, we don't have enough people in practice, we don't have enough staff answering the phones to actually meet that massive level of demand and we're very open and honest about it.
"We know that people struggle to contact and that's because of the sheer volume of demand, it's not because people aren't being seen."
Meanwhile, about 605 staff members from the Belfast Health Trust are currently off work due to Covid.
"Belfast Trust is currently experiencing an increase in the number of staff and inpatients who are testing positive with Covid," it said.
The trust added its staff number can range from between 21,000 to 22,000 at any one time.
"Staff absence due to Covid remains challenging," the trust continued.
"However, we are grateful to our hardworking and dedicated staff who, more than two years since the pandemic began, continue to go above and beyond to care for our patients and service users."
In the Republic of Ireland, the Irish government are waiting for advice from the National Immunisation Advisory Committee before deciding if additional doses or boosters would be extended to more of the population in the autumn.
The taoiseach (Irish prime minister) said the country was experiencing a "disruptive" phase of Covid-19, RTÉ News reported.
Micheál Martin said there were currently 800 people in hospital with the virus.
He said: "We're going through different phases of Covid-19, and I described it recently, we're now in a disruptive phase in the sense that Covid remains a significant disruptive influence".