Derry GAA train service leaving from Belfast is 'absurd'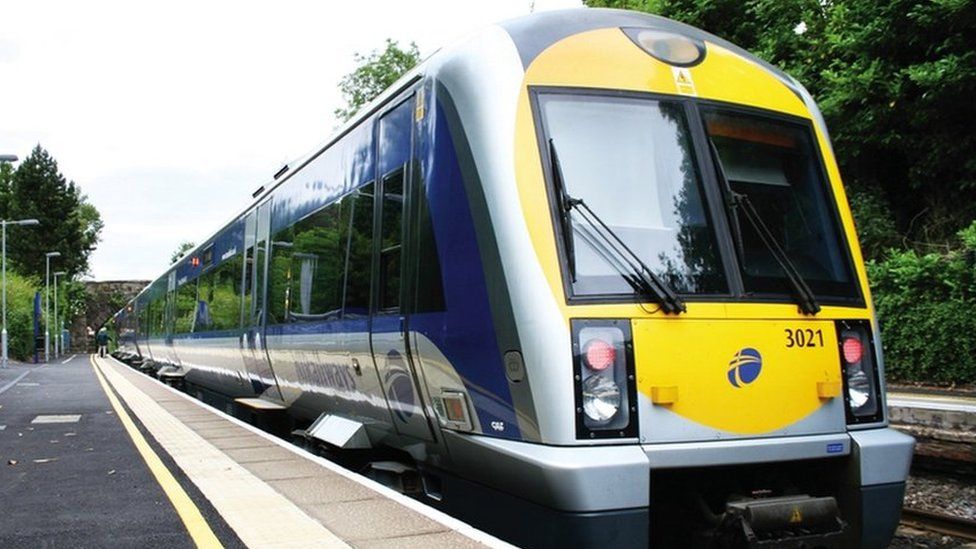 A rail lobby group has criticised Translink's decision to run a special train service from Belfast for Derry GAA fans.
The Oak Leafers face Galway in the All-Ireland football semi-final at Croke Park in Dublin this weekend.
Into The West campaigner Steve Bradley said: "If it's for Derry it needs to leave from Derry."
Derry reached the last four for the first time since 2004 after a dominant 5-13 to 2-8 win over Clare last month.
"It's absurd that Translink think Derry supporters will accept a special train service that goes nowhere near their own county," Mr Bradley continued.
He said that although Translink bus services are leaving from the north-west, he feels the sheer number of fans travelling merits a direct train service from County Londonderry.
"It's good Translink are offering a rail option to get Derry fans to the big game in Croke Park, but what we think is ridiculous is the fact that that train only starts and ends in Belfast," he told BBC Radio Foyle.
"Belfast is 30 miles away from the County Antrim/County Derry border.
"It's 70 miles from the largest population centre of Derry city centre and it's also 52 miles away from the second largest population centre of Coleraine - both of those places are on the rail network.
"Our message is very simple, there is a rail network running through the north-west and it should be used for this big game."
A Translink spokesperson said they were operating "a number of transport options" to the semi-final in Dublin on Saturday.
"There are coach specials leaving Foyle Street in Derry, Dungiven and Maghera to Dublin," they explained.
"A rail special is also running from Belfast to Dublin (return) on Saturday for those wishing to travel by train.
"Passengers can use scheduled services to connect with this train. We will assess requirements from bookings for onward connections for the return journey as the week progresses, subject to demand."