Londonderry: Police attacked with petrol bombs during security alert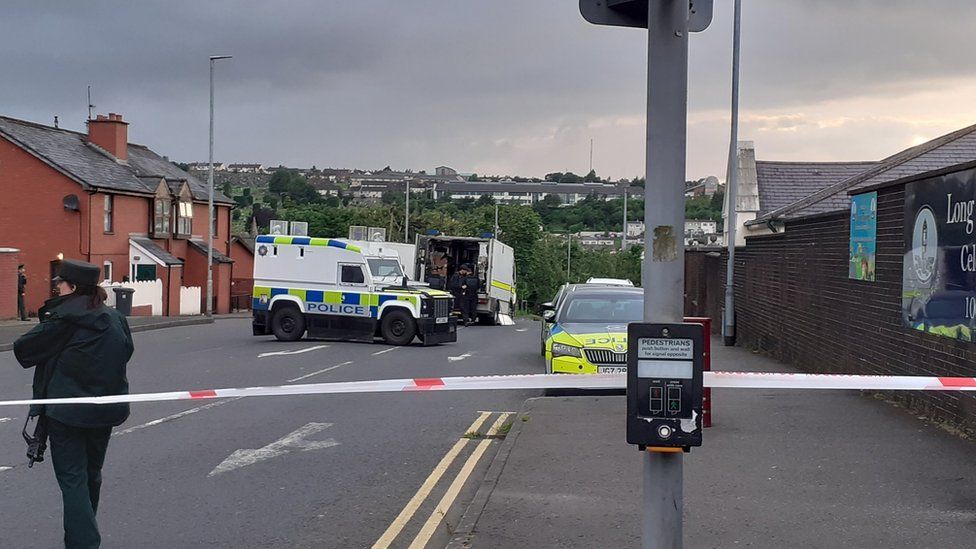 Police in Londonderry have been attacked with petrol bombs while dealing with a security alert which has since been declared a "shameful hoax".
Masonry, bottles and other items were also thrown at officers in what police called a "sustained and senseless attack".
The alert started after police received reports of a suspicious object in the Lecky Flyover at about 18:40 BST.
A number of residents who had to leave their homes have returned.
Police and ammunition technical officers attended the scene.
Nobody was injured when the petrol bombs and other items were thrown, but damage was caused to a number of police vehicles.
'Disruption and frustration'
Supt Clive Beatty thanked the community and especially people directly affected for their patience and understanding.
"A significant number of vital police resources were required to maintain cordons to ensure public safety, which detracted police from delivering key services to other victims and vulnerable people across the district," he said.
"This shameful act of placing hoax devices brings nothing to the community other than disruption and frustration and needs to stop."
East Londonderry MP Gregory Campbell described the scenes in the Bogside area of the city on Sunday as "deplorable".
"I hope this is not the beginning of a widespread series of attacks and vandalism over the summer period," the DUP MP told BBC Radio Foyle.
"Community workers and politicians in the area need to react to this.
"We must protect the police and keep the public protected because someone could be seriously injured or killed if we do not deal with this."