Cost of living: Energy price hikes introduced in Northern Ireland
By Clodagh Rice
BBC News NI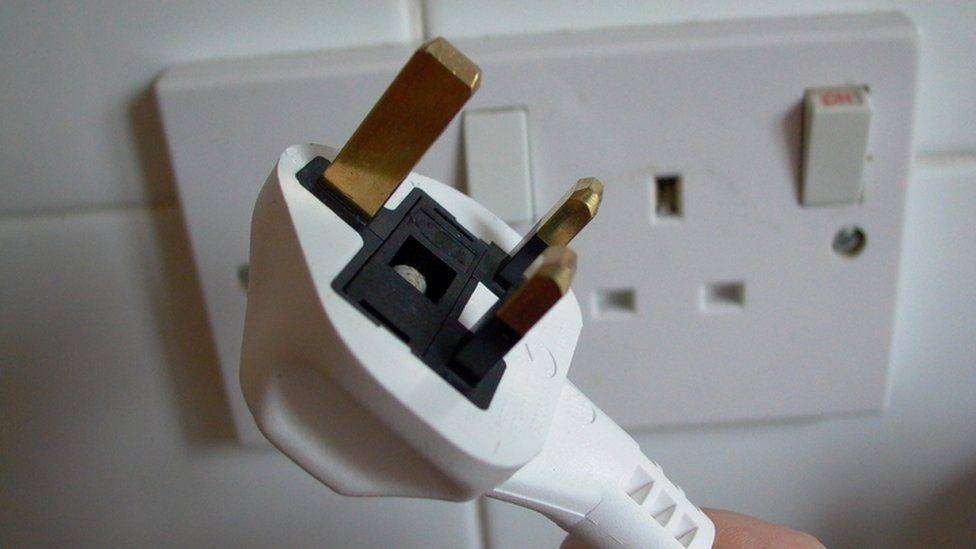 Energy price hikes are coming into effect across Northern Ireland from Friday which will put further pressure on the cost of living.
The increases - which will add as much as £375 onto typical annual bills - will mean tens of thousands of customers will have to pay more for their gas and electricity.
The wholesale cost of energy has soared over the last 12 months because of volatility on global energy markets.
That is being passed on to customers.
Increases, which have been previously announced, include:
SSE Airtricity is increasing gas prices 42.7% in Greater Belfast, adding £372 on to the typical household's annual bill, affecting about 187,000 homes
Firmus energy is putting gas prices up in Greater Belfast by 24.5%, adding about £300 to the typical household bill. It will affect 49,000 domestic and small business customers
Power NI is increasing domestic prices by 27.5%, adding £204 to the typical annual household bill, affecting more than 450,000 households
Click Energy is putting prices up 11%, adding about £100 to the typical annual household bill, affecting about 26,000 customers
Experts say there is no sign of any downward movements, and these higher energy prices could be with us for some time.
Aodhan O'Donnell, from energy comparison site Power to Switch, said that when comparing to this time last year, "the average electricity deal was £400-500, now it's £800 so there's a significant increase there".
"When you look at gas, the average deal from today is about £1,300," Mr O'Donnell said.
"This time last year it would have been around £600, so that's the impact these increases are having when you look at a year-to-year basis.
"Alongside that, the home heating oil price has also been above £1 a litre for some time now.
"I think people might not feel the full effect of that for some time now because it's July, but as soon as it comes into September, into the colder months, we'll certainly be finding people will struggle and prices are likely to stay high."
Lee has a rare genetic disorder and relies on machines to help him breathe. His bed, toilet, CPat machine and nebuliser - everything in his home requires electricity.
His mum Caroline said the latest increase was adding to the pressure.
"It's scary to even think of what's to come down the line," she said.
"Lee is on Economy 7 here and got a little reprieve when the weather turned good that he could switch off a couple of heaters.
"But because he suffers with a lot of kidney infections he needs to keep the heat up, but to think what's going to come down the line at Christmas or winter if there's a cold snap.
"It's already £100 a week. To hike it again, you're talking about £20-30.
"That's going to cut into his benefits. He already has to pay for his care £103 a week, so he is already well past the breadline, so he is in the red now and it's life-threatening.
"Anybody who needs this much equipment to stay alive, there should be more done for them."
'Plan for winter from July'
The Consumer Council said it was currently speaking to consumers every day "who are upset and worried about the winter ahead".
Its director of infrastructure and sustainability, Peter McClenaghan, said the price increases taking effect on Friday "will impact more than half of Northern Ireland's households".
"We urge anyone who is struggling to pay their energy bills or to top-up their meter, to contact their supplier directly for help with payment plans for bill pay / direct debit and prepayment meters," he said.
"We know people are desperate for that support and we would ask those who will receive these funds, if you can, plan for heating your home this winter when deciding how to use the money you receive in July," he said.
"There is also an urgent need for clarity on, if, how, and when the Chancellor's £400 energy support package will be made available everyone in Northern Ireland."
Meanwhile, in the Republic of Ireland, Electric Ireland has announced that it will increase residential gas bills by 29.2% and residential electricity bills by 10.9% from next month.
Broadcaster RTÉ reports that this equates to an an average of €13.71 (£11.88) per month on the average electricity bill and €25.96 on the average gas bill.