Kathleen Thompson: Mother-of-six's killing 'unjustified'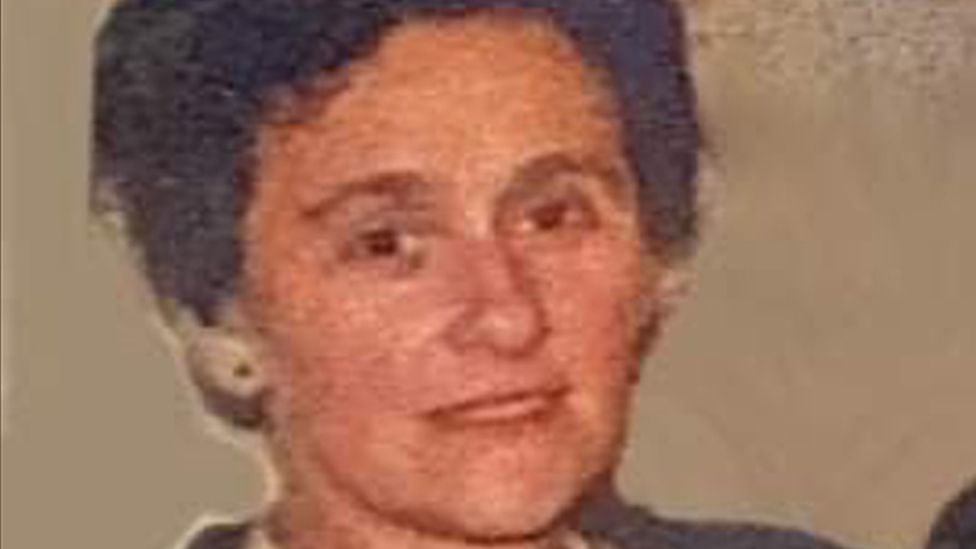 An inquest has ruled that a soldier was unjustified in firing shots that killed a mother-of-six more than 50 years ago.
Kathleen Thompson, 47, was shot dead in the back garden of her home in Londonderry in 1971.
An inquest in 1972 into Mrs Thompson's death returned an open verdict. The attorney general ordered a fresh inquest in 2013.
This inquest started in 2018, but was adjourned to allow time to trace three soldiers and resumed in 2021.
Mrs Justice Sandra Crawford ruled that the fatal shots were fired by an individual know as Soldier D as the British Army withdrew from the South Way area of Creggan following an arrest operation in the area.
The coroner said Mrs Thompson had gone to the rear of her home in Rathlin Drive and was banging a bin lid or another object on the ground to warn people of the army's presence when she was shot.
She said that Soldier D had claimed he had opened fire after he was fired upon, and was thus acting to protect himself and his colleagues.
The coroner said: "I cannot be satisfied that Soldier D held an honest belief he was under fire."
'Long and painful journey'
Speaking outside the court following the ruling, Mrs Thompson's family welcomed the finding and "the acknowledgement that our mother was a totally innocent civilian whose killing was never properly investigated at the time".
A statement, read by Mrs Thompson's daughter Minty, said: "There was no justification for her killing and it's hugely important for us and for the wider community that the truth should be established, even though real justice remains elusive.
"The legality of this killing should have been tested in a court of law with a prosecution at the time.
"This has been a long and painful journey for us, we should not have had to fight for justice."
The family added: "We wish to direct a question to the secretary of state Brandon Lewis - on the very day we received the findings from the coroner, you are railroading through a law that will deny other families the legal right to inquest.
"You're a qualified barrister, yet you intend to deny families here justice. Have you no shame?"
The government has stated that current legacy arrangements are not working.
However, by coincidence on the day it is advancing legislation, come two court outcomes which, in the view of opponents, undermine its argument.
It wants to ban all future inquests and civil actions related to the Troubles.
Today, some victims' families found huge merit in having their day in court.
In the case of Kathleen Thompson, an inquest found a soldier was not justified in shooting her.
They had a police report quashed by a judge.
But what happened today is not going to change the bigger picture.
The government has embarked upon a course of action which it is highly unlikely to deviate from.