Maternity leave: Calls to introduce time off for NI councillors
By Amy Stewart
BBC News NI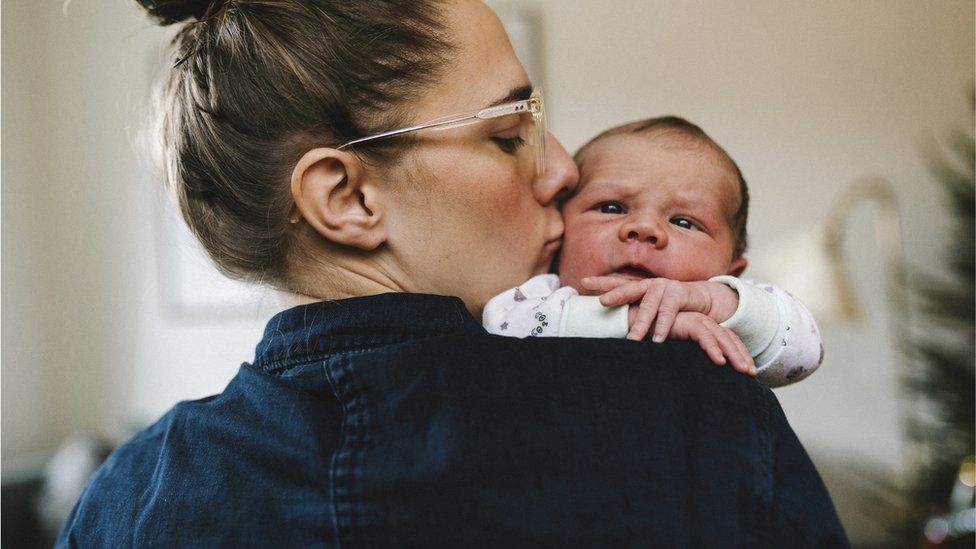 There have been calls for local councillors in Northern Ireland to be entitled to maternity leave.
It comes as plans were announced this week to introduce maternity leave for councillors in the Republic of Ireland.
The proposals allow a substitute to take a councillor's place for 26 weeks and a further 14-week unpaid period.
There had been concerns that women were under pressure to attend council votes and meetings.
Councillors in the Republic are salaried while councillors in Northern Ireland are not but do receive an allowance.
Working on the maternity ward
Belfast City Council Alliance councillor Michelle Kelly gave birth to a baby girl, Charlotte, last April.
She told BBC News NI the lack of maternity support was "a serious obstacle to women entering politics in Northern Ireland".
"When Charlotte was born last April I was doing case work when I was still in the hospital with her," she added.
"I was brought in to be induced so I was sitting on my phone, answering emails."
Ms Kelly returned to meetings after about two weeks, which were possible remotely due to Covid-19 regulations.
"I knew what I was getting myself into, so I don't want any violins playing, but I'd like things to be different for people in the future," she said.
"In Belfast there's only 15 women out of 60 councillors - that's 25%.
"I think people are put off by the lack of maternity provision."
Ms Kelly has a motion going forward at council on Monday for a continued hybrid working model, which she said had helped people with other responsibilities.
If accepted, she said she would ask the department to consider maternity and paternity leave.
"A councillor should be entitled to switch off after the birth of a child."
She said improving conditions would make local politics more attractive for young parents and widen the demographic of councillors.
Newry Mourne and Down SDLP councillor Laura Devlin has had two children since becoming a councillor in 2013.
Tom was born in 2016 and Polly in 2019, seven weeks before council elections.
"I had C-sections with both my children but I did feel the need to be out and about knocking doors with all my literature in the bottom of the pram, talking to constituents, then maybe heading back to the car to breastfeed, then back out again," she told BBC News NI.
She said she fully welcomed the Irish government's plans.
"It really is leading the way in terms of that change that we all need to see - we need more women in politics.
"If we want to attract talent, the conditions have to be right and women have to be supported.
"If we don't act it remains to be a barrier for any young woman who wants both a family and to enter political life," she added.
She said that MLA Colin McGrath, who she works for, fielded constituent inquiries when she had her babies, but that independent councillors do not have that party support.
"I still put pressure on myself in terms of council votes. If something was happening I wanted to be there so I took my young children to meetings," she said.
Ms Devlin would also like to see the hybrid option of remote meetings continue.
"If people are struggling they should be able to dial in and participate in meetings," she said.
Aoife Clements is founder of 50:50 NI, which was set up to encourage women to enter politics and to make it a better career by tackling issues like childcare.
She said the lack of maternity leave needed to be addressed.
"There's a barrier, especially for younger women who are having families or are thinking about having families," she said.
"You may have a new-born baby but still have to go to evening meetings."
She said the 2015 creation of the super councils - when 11 council areas replaced 26 district councils in Northern Ireland - also posed problems.
"Councillors can live an hour's drive away from council buildings," she said.
"A lot of people take time to recover from childbirth and need time to bond with their babies."
MLAs in Northern Ireland are salaried but they are also not entitled to maternity leave.
Assembly member and former Lord Mayor of Belfast, Kate Nicholl, recently gave birth to her second child.
The South Belfast representative has called for maternity leave and childcare facilities for Assembly members.
When she had her first baby, Cian, as a councillor she was back in after four weeks and returned to work three weeks after giving birth to daughter Etain.
"It needs reform because it's off-putting to women who want to have a family and a career in politics," she told the BBC."
In a statement, the Department for Communities said officials were in discussion with representatives of the National Association of Councillors (NAC) about a number of issues, including maternity leave.
"During the coronavirus emergency, the department brought forward legislation - the Local Government (Coronavirus) (Flexibility of District Council Meetings) Regulations (NI) 2020 - to provide councils with the flexibility to hold meetings by remote/hybrid means," it said.
"It is a matter for a council to decide which meetings will be held in person, remotely or by hybrid means. The regulations remain in operation."