Irish News owner Jim Fitzpatrick dies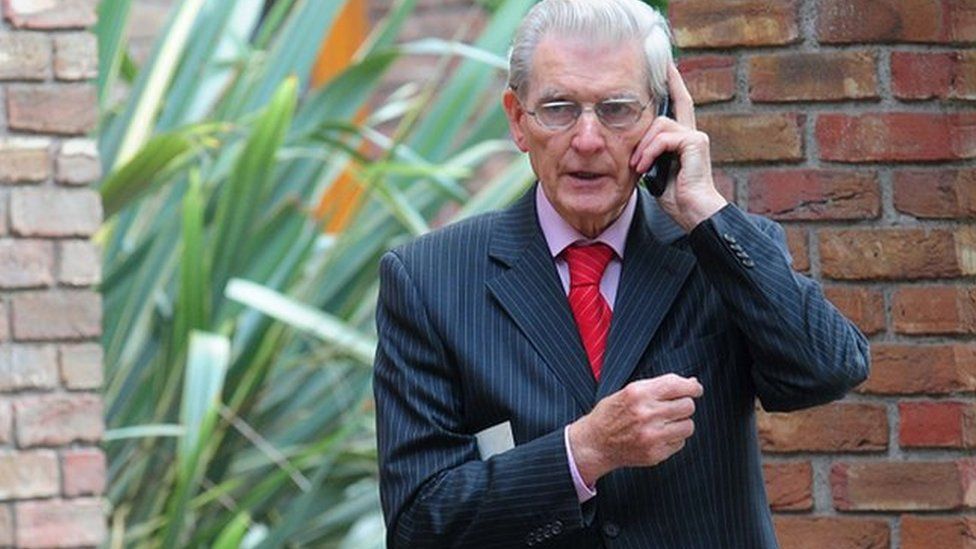 Jim Fitzpatrick, chairman of daily newspaper The Irish News, has died.
Mr Fitzpatrick, who was 92, had owned the Belfast newspaper since the early 1980s.
Taoiseach (Irish Prime Minister) Micheál Martin expressed his sadness at the death of Mr Fitzpatrick.
Mr Martin said he had the "great privilege" of knowing Mr Fitzpatrick for many years and that added that he was "in every respect, a true gentleman".
"In his decades-long stewardship of The Irish News, he was a profoundly important advocate for an end to violence in the north," Mr Martin added.
"His role in the earliest days of the embryonic peace process is not widely known, but it was crucial.
"In his support for and leadership of the Chamber of Commerce in Belfast, he brought together people from all backgrounds in common constructive cause and was an example of true civic leadership.
"In his quiet and ceaseless philanthropy over a lifetime, his generosity has left its stamp all across Belfast and further afield."
SDLP leader Colum Eastwood said Mr Fitzpatrick was "one of the giants of news in Ireland".
"During the most difficult periods of our recent past, Jim was fearlessly devoted to telling the stories of ordinary people who had suffered the most extraordinary loss and he did it without favour, even when it meant putting himself at odds with the men of violence," the Foyle MP added.
I'm deeply saddened by the passing of Jim Fitzpatrick, who in word and deed was one of the people who sustained the embers of our fledgling peace in difficult times.

Full of integrity and unfailingly kind, he'll be missed by everyone who knew him. https://t.co/bP4V5TVoJL

— Colum Eastwood 🇺🇦 (@columeastwood) June 25, 2022
"He was a man committed to the truth, to fairness and to peace on our island.
"His strong stewardship of the Irish News and his absolute belief in the primacy of democracy and the principles of non-violence contributed in an inestimable way to the peace we enjoy today."
Alliance Party deputy leader Stephen Farry said: "Jim Fitzpatrick was a giant in the NI media and the wider community over many decades. I always enjoyed talking with him."
Sinn Féin vice-president Michelle O'Neill said Mr Fitzpatrick was a "quiet diplomat who worked to advance and influence peace and reconciliation across the political divide".
"I will remember Jim fondly as a man of great wisdom and integrity who leaves us with a rich and generous legacy," she added.
'An inspiration to so many'
"Dad was an inspiration to so many people," he said.
"His desire to be involved in The Irish News was driven by a belief that society needed a newspaper that could stand for truth and justice, particularly at such a turbulent time in history.
"Under his direction the paper has been transformed into the success it is today."
He added: "Dad really cared about people. He loved his work and was still coming to the office until a few weeks ago."
The Irish News editor Noel Doran said Mr Fitzpatrick was a "giant of the newspaper industry as well as a key figure in the search for peace and reconciliation in Ireland who also had significant roles in law, business and the arts".
"Although he maintained a low profile, he was a noted philanthropist who probably had the strongest personal faith of anyone I have ever met," he said.
"He was completely dedicated to his family and to his staff at all levels in The Irish News, and serving as his editor for the last 24 years has been the greatest privilege of my career."