Jennifer Dornan: Raymond O'Neill sentenced to 22 years in prison
By Ali Gordon
BBC News NI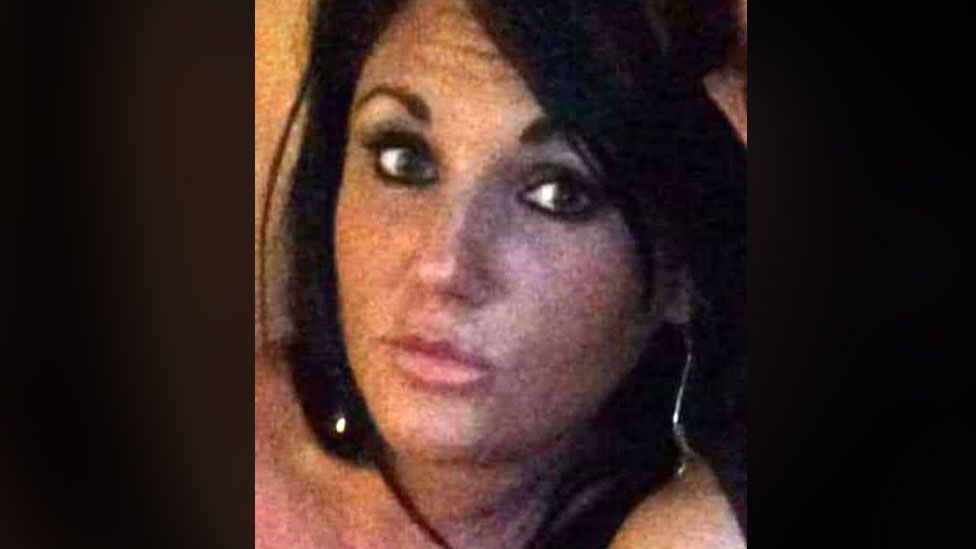 The sister of a mother-of-three who was murdered in her west Belfast home has said "no sentence will ever be good enough" for her killer.
Raymond Martin Gabriel O'Neill, 44, denied murdering the 30-year-old and then setting fire to her house.
On Friday, he was sentenced to a minimum of 22 years in jail.
O'Neill, of Amcomri Street, Belfast, was given an automatic life sentence after a jury had unanimously convicted him of arson and murder in April.
On Friday, during a sentencing hearing to determine how long he must serve before being considered for release, a prosecution barrister said: "This is a shocking murder; every woman's worst nightmare that a man should follow you home after a night out, break into your home and murder you."
The judge also gave O'Neill an indeterminate sentence of seven years for arson to be served concurrently.
He has launched an appeal against the conviction.
Ms Dornan's younger sister Claire hopes that her family will now "have time to properly grieve".
"We will never ever get over what happened to Jennifer because it's hard to understand why someone would want to kill her - she was one of a kind," Claire Dornan told BBC News NI.
Ms Dornan said her sister was murdered "in her own home, a place where she should have felt safe".
"I never thought it would take seven years for Raymond to be convicted of Jennifer's murder," she added.
"Raymond ran to the south of Ireland after he killed Jennifer and it took just over three years to extradite him back up to the north, then Covid came along and it was put back again.
"We have never given up and have fought all this time so we could get a guilty verdict."
During the eight-week trial, the court was told by O'Neill that he had no memory of the night of the murder due to a stroke in October 2016, which he claimed was caused by prison staff in Dublin poisoning his juice bottle with methadone.
He also claimed he had no memory of travelling to County Donegal, in the Republic of Ireland, in the days following Ms Dornan's death or of his arrest in Bundoran.
Claire Dornan says O'Neill "has lied about murdering Jennifer from day one".
"Even to this day, he is still denying it. He has dragged this out for our family for nearly seven years.
"Raymond didn't even know Jennifer - he just followed her home and murdered her.
"It hasn't been easy for us hearing all the evidence, especially the pathologist report.
"I still wish he would admit it but I know he won't. He will never tell us why he killed Jennifer."
For the Dornan family, this sentence will hopefully close the legal chapter.
But the reality remains - three young children are without a mother, a sister is without any siblings and a mother is without a daughter.
The family were already grieving before the murder - Jennifer's brother Stephen was just 23 when he died in 2009.
"My family has been massively impacted by all of this," Claire told BBC News NI.
"Me and my mum still haven't come to terms with it properly. Not having Jennifer in our lives has been very difficult. We all miss her.
"Jennifer was the best daughter, the best sister and the best mother to her three children.
"Her children are finding it very difficult not having their mother around and it's particularly hard at Christmas time and birthdays.
"My mum and me look after them very well - that's what Jennifer would have wanted - but they are struggling since losing their mummy."
The Dornan family have many fond memories of Jennifer, who Claire described as someone who "went out of her way to help others".
She said her older sister "always looked after me when we were growing up" and would "plait my hair and pick nice clothes for me".
Claire added that she will remember better days, like days spent in Jennifer's back garden.
"She would invite me and my children up, and my mum too, and we would all sit out her back garden and have a BBQ while the kids splashed about in the paddling pool.
"Jennifer just loved spending time with her family and friends. It's memories like that I will always remember; they were the good times."
But Claire would love to see her sister one last time to tell her that her kids are OK.
"I would also tell her I love her and miss her every day."