Licensing laws: Brewers call for review of surrender principle
By Luke Sproule
BBC News NI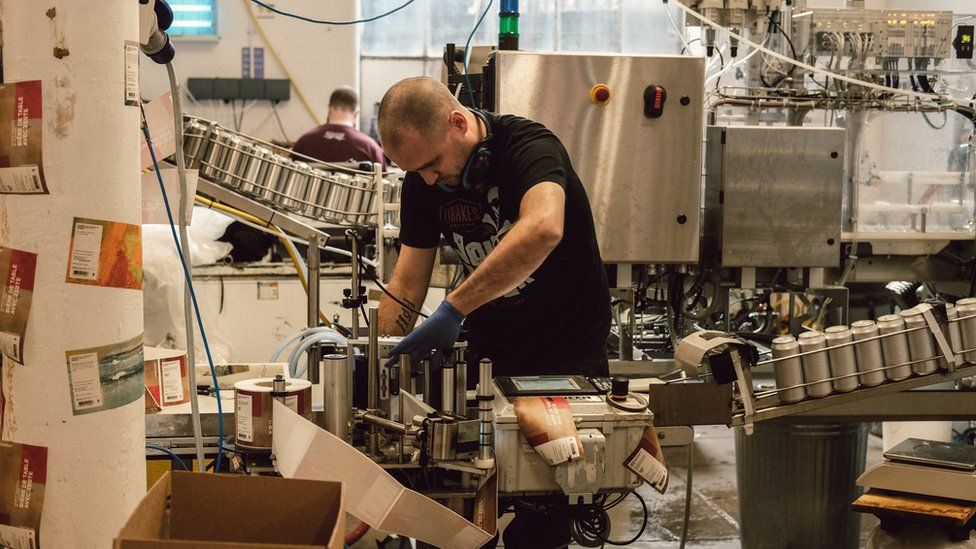 Along with later opening hours and an end to restrictions over the Easter weekend, the legislation changed how breweries and drinks producers could sell alcohol on-site.
Hospitality Ulster, meanwhile, has backed the new rules and said it believed they were a fair compromise between various types of business, while the Department for Communities said it would soon be commissioning a further review of the new system.
Bullhouse Brew Co opened its new permanent taproom in east Belfast in June, with Boundary Brewing due to follow by September.
But both companies opted to go through the lengthy process of obtaining a traditional pub licence.
"The local producers licence is very restrictive," said William Mayne from Bullhouse Brew Co.
"You are only allowed to open them twice a week basically - 104 times a year - but only from 16:00 to 22:00 and you can only sell your own products.
"People come in looking for other products - guest beers - or we do collaborations with breweries in England and we want to bring their beers over and we wouldn't have been able to do that."
The 104 days a year restriction also posed a problem from Matthew Dick of Boundary Brewing.
"There's no brewery going to hire staff, no brewery going to commit money to infrastructure, if you can only open for 12 hours a week," he said.
"That's mad, you're going to be left with a sub-par experience for the customer and a total missed opportunity for the breweries."
Both Bullhouse and Boundary bought licences from pubs which had closed in other parts of Northern Ireland and went through the lengthy - and costly - legal process of moving them to Belfast.
The process stems from the so-called surrender principle in the Northern Ireland licensing laws, something which did not change under the new legislation.
This means there are a set number of licences in Northern Ireland and if you want to open a pub or off-licence you have to obtain a licence from an existing business which is giving up its licence.
Mr Mayne said this led to an average cost of £100,000 to buy a licence because they are so in-demand.
Both he and Mr Dick want the surrender principle to be removed.
"The surrender principle is the toothpick that holds a whole stack of cards up," said Mr Dick.
"If you take it away, the market becomes more competitive and free. I own a licence now - it's one of the most expensive assets I own but I would give it up in a heartbeat to level the playing field."
He believes the system and the cost stifles independent companies and choice for consumers, a view shared by Mr Mayne.
"Small, independent venues are impossible under the current system," Mr Mayne said.
"There's no small wine bars, in Belfast there's not really any tiny pubs other than historical pubs.
"If you're stumping up all that money for a licence, especially in the city centre, it's not viable to have a 20-seat wine bar because it just wouldn't make financial sense.
"Getting rid of the surrender principle would see the creation of lots of small, independent venues which would also support independent producers."
Colin Neill of Hospitality Ulster supports both the rules around taprooms and the surrender principal.
"We were supportive of taprooms, but what you don't want is to create something under a different format that competes directly [with pubs].
"You get unfair competition because a pub pays its rates based on turnover.
"There will always be people who thought they didn't get what they wanted, but I think the current model allows for them to coexist.
"I appreciate that there are people who will say around the surrender principle that it should just be a free market.
"I would say if you look at our pub stock, the surrender principle has actually helped to keep it very high quality if you compare it to a lot of Great Britain where you have huge chains and every pub is the same."
"What happens if you create a free-for-all, it'll be a race to the bottom for cheap drink. It's important that it is regulated."
Mr Neill added that the new legislation had been positive for pubs and rather than deregulation was "modest modernisation".
When the new licensing law passed at Stormont, SDLP assembly member Matthew O'Toole had an amendment passed which committed the Department for Communities to reviewing the surrender principle by the end of 2024.
A Department for Communities spokesperson said: "During the last assembly mandate, the minister delivered the biggest reform of our liquor licensing laws in many years, delivering a more modern and flexible system.
"The long awaited changes will undoubtedly assist the sector to rebuild following Covid and has, for the first time, enabled local drinks producers to sell their products directly to the public.
"The department will soon be commissioning an independent review of the licensing system to explore future options, which will include consideration of the surrender principle."