NI Protocol bill's second reading expected next week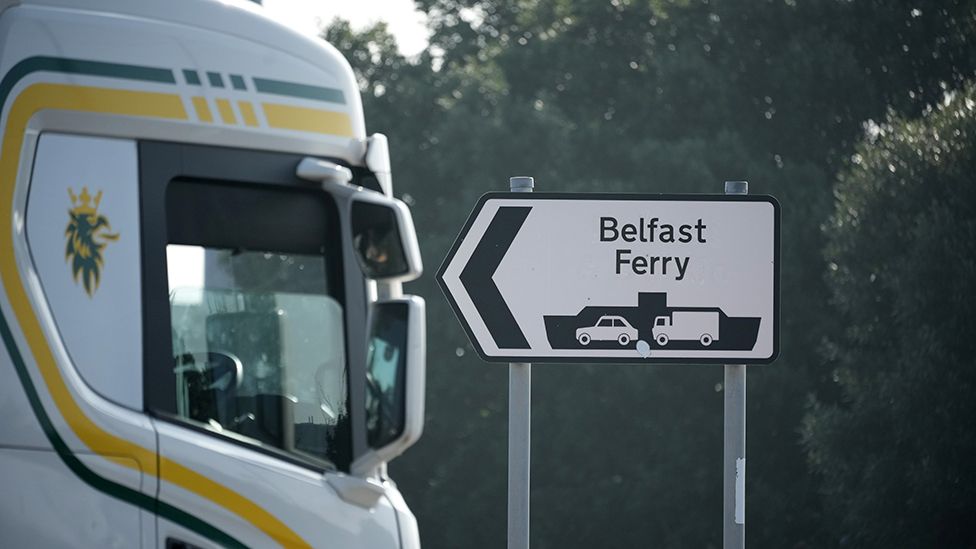 The second reading of the government's Northern Ireland Protocol bill is expected to take place at Westminster on Monday, the BBC understands.
The bill will allow ministers to override parts of the protocol, the post-Brexit trading arrangements for Northern Ireland.
It's thought the government delayed the second reading to try to apply pressure on the DUP to return to Stormont.
Sinn Féin won the most seats in last month's assembly election, but the DUP (Democratic Unionist Party), which came second, is refusing to re-enter a power-sharing executive until the party's concerns about the protocol have been addressed.
DUP leader Sir Jeffrey Donaldson has previously said his party's return to the Stormont executive would depend on whether Parliament backed the government's plan to ditch parts of the protocol.
What is the Northern Ireland Protocol?
The trade deal governs how goods enter Northern Ireland from the rest of the UK and was agreed by the UK government and the European Union following the Brexit vote in 2019.
It was designed to prevent a hard border on the island of Ireland when the UK left the European Union.
The protocol led to the creation of new goods checks at Northern Ireland sea ports on some products from Great Britain, effectively creating a new trade border in the Irish Sea.
Unionist parties, including the Democratic Unionist Party (DUP), argue that this has led to extra costs and unnecessary delays, as well as undermining the union between Northern Ireland and the rest of the UK.
Earlier this month, the UK government published plans to get rid of parts of the post-Brexit deal.
It wants to change the Northern Ireland Protocol to make it easier for some goods to flow from Great Britain to Northern Ireland.
But the EU opposes the move, saying going back on the deal breaches international law.
The government has said it would prefer a "negotiated solution" with the EU that avoids the need for the bill to become law.