Education Authority: Damning performance review published
By Robbie Meredith
BBC News NI Education Correspondent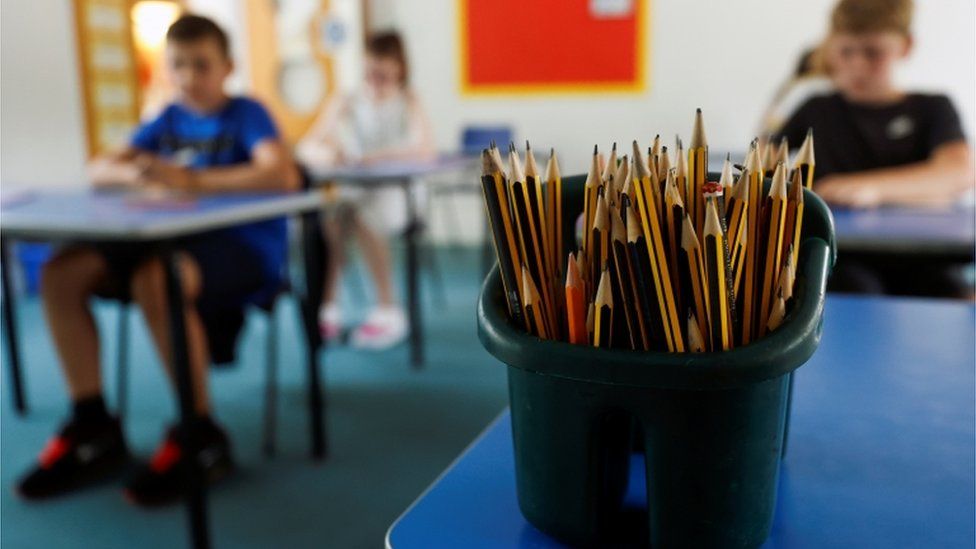 The Education Authority (EA) has inflicted too many "own goals" and is driven by "process" rather than the needs of pupils and schools, a major review has found.
The body has also shown aspects of "dysfunctional culture".
It is the first major investigation into the Education Authority's role and performance since it was established in 2015.
The review was commissioned by the Department of Education (DE).
Running to 170 pages, it was compiled by business advisory firm Baker Tilly Mooney Moore.
It found that the Education Authority, which is responsible for the day-to-day running of Northern Ireland's education system, was "not effective" and limited in its engagement with schools.
There was a general sense that "process is more important than supporting a school or principal" for the authority, the review added.
"Decision making in the Education Authority can be characterised by 'has the process been followed?'" it said.
In response, the Education Authority said the review had identified and would inform "numerous opportunities for improvement".
The report contains many criticisms but did, however, say that the organisation had begun to become more effective and change in recent years.
The Education Authority is responsible for spending most of Northern Ireland's annual education budget of around £2.3bn.
As well as funding about 1,100 schools, it employs about 44,000 people to provide services like school transport, meals, maintenance and support for children with special educational needs (SEN).
But the Baker Tilly Mooney Moore review said there was still "confusion on the role and remit of the EA" across the education sector and within the authority itself.
Analysis: Where does the EA make a difference?
The EA is at the heart of Northern Ireland's education system and what it does affects hundreds of thousands of children, parents and teachers.
While the review says there have been some recent improvements, it paints a detailed picture of an organisation which has little sense of its own purpose.
Most critical of all, it appears not to have the trust of school leaders and even some of its own staff.
Fundamentally, where does the EA make a difference? the review asks.
The fact that seven years since it was set up there appears to be no clear answer to that is damning in itself.
There was also criticism of the bureaucratic and process-driven nature of the authority.
School leaders and others reported that "they regularly encounter a culture of 'that's not my paygrade' decision-making, of passing decisions across the organisation", the review said.
"Decision making is seen as cumbersome and a burden, and feedback indicates that the default position of EA is that it appears to be afraid to make a mistake and is consequently risk-averse, passive and not progressing at the pace required to effect radical change in the system," it said.
"Principals and the wider system identified that many in EA (and Department of Education by extension) are too removed from operational delivery of education and are therefore too silo-ed into their own thinking and are in fact, despite the best will in the world, not child or pupil-centric."
The review was also critical of the "culture" of the authority.
Some Education Authority staff told the authors that the organisation was "the most bureaucratic organisation I have worked in" while others said "a lack of trust stifles good decision making".
"Aspects of dysfunctional culture include a lack of openness to criticism, defensiveness, looking inwards and not outwards and an acceptance of poor standards, a sense of complacency and a lack of challenge," the review said.
"Our fieldwork and evidence gathering has identified that EA has been guilty in the past of some of these behaviours, but there have been more recent attempts to become more transparent, more open to communication and creating a culture of openness and challenge.
"This is still a work in progress."
'Limited resourcing and staffing levels'
The review said there were signs of more recent change but that was "slow and not moving at pace".
It also said the authority was reactive rather than proactive in areas like human resources and planning.
"The lack of HR (human resources) strategy provides limited definition or articulation of the future vision of the service, its ambitions and the people resourcing and capability issues," it said.
While the review said board governance was more successful than expected, some staff reported that "that they can feel under pressure from board members not to bring matters to board for discussion".
"This is not acceptable and strays beyond the role of a board member," the report said.
The review said, though, that the authority was trying to deliver all its responsibilities with "limited resourcing and staffing levels" and that it was "probably underfunded".
The review did, however, highlight some progress the authority had made in recent years.
For instance, it said that a new strategic plan to help children with SEN was in place, including improving the assessment and statementing process.
"Since 2018-19, the organisation has begun to `form' with real progress being made across a whole suite of areas, highly skilled and dedicated professional staff work tirelessly (often against significant challenges)," it said.
"The organisation is beginning to respond to its landscape and settle into that landscape and much good work has been done to get this far."
"The appointment of a new Chief Executive in December 2018 heralded a fresh beginning for the organisation and since then the organisation has been embarking upon a journey of continuous improvement and a more quality focused approach to service delivery."
The Education Authority's chief executive Sara Long welcomed the review.
"We acknowledge that there are numerous opportunities for improvement that this report will help to inform," she said.
"There is a need to improve communications and responsiveness; to better meet the expectations of EA's many stakeholders; and to continue to make our services more child-centred.
"Seven years on from the formation of the EA, it is the right time to reflect on where we have come from, the challenges faced, the progress made, as well as ensuring we continue to move forward in the next chapter of EA as a confident, child-centred, future-focussed organisation that supports schools and delivers the best possible outcomes for all of our children and young people."