Belfast Harbour records financial performance bounce back
By John Campbell
BBC News NI Economics & Business Editor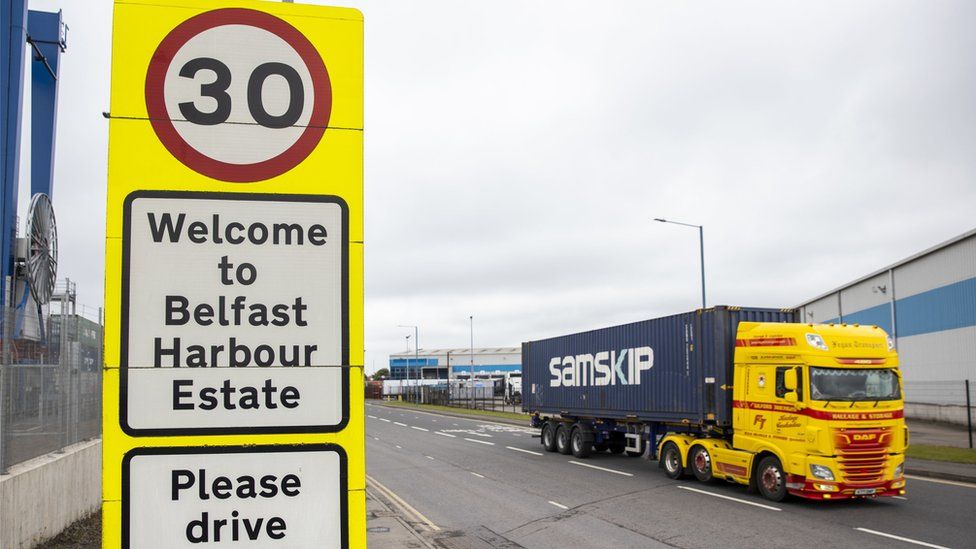 Belfast Harbour's financial performance bounced back in 2021 as port activities recovered to pre-Covid levels.
Turnover increased by 17% to £73.3m on the prior year, while operating profits were up 13% to £34m.
Freight, container and passenger levels in 2020 had been hit by lockdowns, restrictions and related supply chain issues.
The largest growth was in container volumes, up 15% to 132,000 units, the highest level since 2008.
Ferry passenger journeys increased by 69% to 1.5m and there were more than 70 visits from cruise ships in 2021 compared to just one in 2020, when the cruise industry almost entirely shut down due to the pandemic.
Dr Theresa Donaldson, chair of Belfast Harbour, said there had been a "strong trading performance" with both port trade and wider business activity out-performing the previous year.
Post-Brexit, the port has picked up some business from NI exporters who have diverted from Dublin.
Goods in Northern Ireland have unfettered access to the Great Britain market but only if they leave from ports in Northern Ireland; goods being shipped from Dublin face new paperwork and controls.
The harbour is also a significant office property developer and has recently completed the City Quays 3 development which was space for about 1,800 workers.
It is now in pre-application discussions about two further phases to City Quays which will include a 260 unit build-to-rent residential development.
The harbour's film studio, on the northern foreshore, hosted its first Netflix production this year and it is understood to be in advanced discussions about further productions.
Harbour chief executive Joe O'Neill said port trade had continued to perform strongly in the first half of this year but there had been some signs of "softening" in the third quarter, particularly in imports of bulk commodities like animal feed and fertiliser.