Northern Ireland schools: Proportion of male teachers continues to fall
By Robbie Meredith
BBC News NI Education Correspondent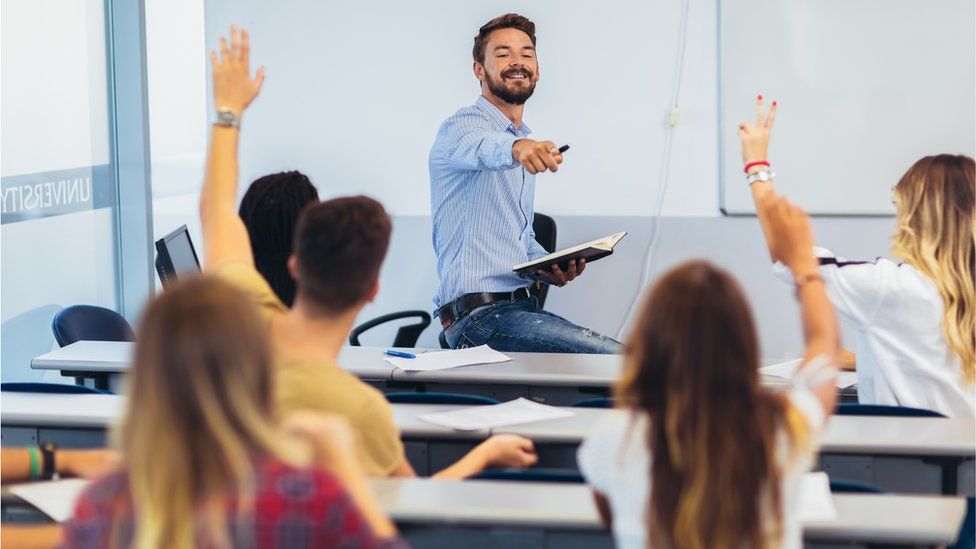 The proportion of men teaching in Northern Ireland's schools has continued to fall, according to Department of Education statistics.
More than one in five (22.8%) teachers in 2021-22 were male, down from one in four a decade ago.
The school sector with the highest proportion is grammar schools, where about a third of teachers are male.
But according to the department, there are no male nursery school teachers anywhere in Northern Ireland.
Only about 15% of teachers in primary schools are male.
Overall there were 4,779 male teachers in Northern Ireland in 2021-22, compared to 16,157 women.
While the actual number of male teachers has risen slightly, the proportion of teachers who are men has continued to fall.
The department's just-published report on the teacher workforce does not give reasons about why teaching is a much more popular career choice for women than men.
But the gender gap in teaching is not unique to Northern Ireland.
The principal of St Ronan's College in Lurgan, Fiona Kane, said that the female workforce in education was strong but there was still a need to attract more male teachers.
"Boys and young men need to see education as something males are involved in," she told BBC News NI.
She also suggested that patterns of university entry could be responsible for the make-up of the teaching profession.
According to separate statistics from the Department for the Economy, almost three-quarters (72%) of 3,900 Northern Irish students studying subjects related to education or teaching in 2020/21 were female.
'Incentives to attract more males'
"You often need top A-level grades to get into a Bachelor of Education degree, for example, so sometimes boys are being squeezed out of what is a very competitive market," Ms Kane said.
"We are also crying out for more Maths and Science teachers.
"In universities those courses often have more male students but they're not deciding to become teachers when they graduate.
"We need incentives to attract more males to teaching, but also to attract more subject specialists - men or women - in some areas."
She added: "Teaching can be a 24/7 job but the holidays are relatively family friendly."
In post-primary schools, however, Ms Kane is in a minority as a female principal.
Despite the fact that about 70% of teachers in post-primaries are women, just over half (53%) of post-primary principals are men.
In primary schools, four in ten school heads are male, according to the Department of Education's figures.
The figures also show that the cost to schools of employing substitute teachers increased from £83.6m in 2020/21 to £100.7m in 2021/22.
Around £15m of that figure was due to Covid-19 absences, but other sickness absences, parental leave and vacancies also accounted for a high proportion of the money schools spent on substitute teachers.