Loneliness: Adopt a Grandparent scheme flies but NI charities warn of 'legacy'
By Amy Murray
BBC News NI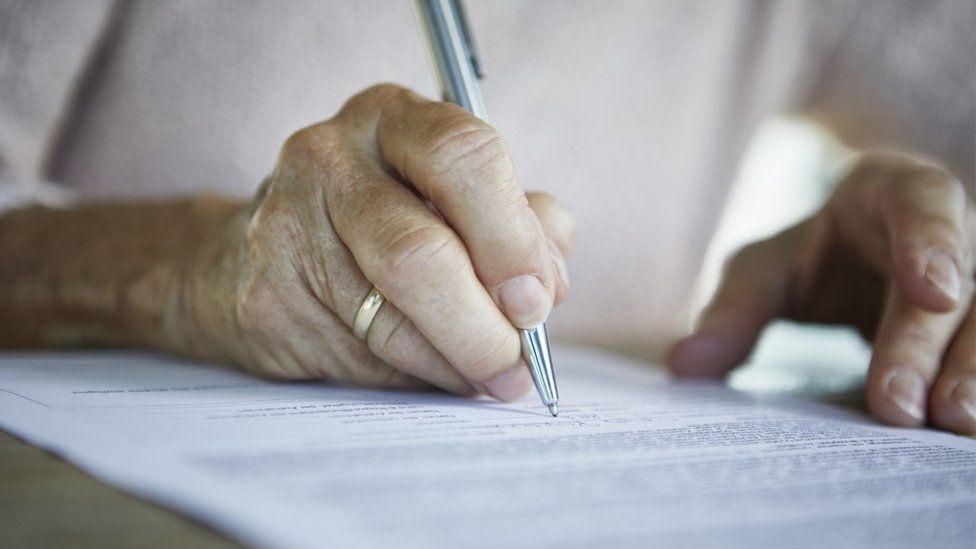 "One letter at a time - that's how we're going to combat loneliness."
Kathleen Hammond is feeling overwhelmed. She has just launched an Adopt a Grandparent scheme, which aims to set volunteers up as pen pals for elderly people.
It has proved so popular it received more than 1,000 applications in less than 24 hours.
Kathleen runs a care organisation and she wanted to do something about something she knew was a problem - the isolation being experienced by elderly people.
The scheme has now received about 2,000 applications and the number continues to grow, with four new team members being brought on board to keep up with demand.
"I wasn't expecting the response from all over the island of Ireland. I thought it may have just been connecting people in the mid-Ulster area," said Kathleen, who is based near Cookstown, County Tyrone.
"But I'm not that surprised. Northern Ireland, as a community, we do care. And when things like this pop up, we do rally around it."
The scheme was launched during Loneliness Awareness Week and comes shortly after research by the British Red Cross indicated that people across Northern Ireland fear a looming "loneliness legacy".
In its latest study on loneliness, the charity found that eight out of 10 people in Northern Ireland believe loneliness has become a bigger problem since the Covid-19 pandemic began.
It's no surprise that the issue is being sharply felt by the elderly, a demographic which has traditionally struggled with issues around isolation and solitary living.
John, a 93-year-old from Bangor, gets a weekly "check in and chat" call from Heather, from Age NI.
Sometimes it's the only conversation he'll have in a week.
"We talk about anything and everything. She is very interested in the life that I have led and she asks me about what I've done," he said.
Despite charity initiatives like this, the challenge loneliness presents to all age groups remains - particularly as the cost-of-living crisis bites and some forego social activities to save money for heating and eating.
Declan Hurl, a volunteer with the Red Cross Community Connector Programme, said these decisions could be a slippery slope to wider consequences.
"People who feel isolated and alone really don't have the tools to reconnect, especially after the lockdown," he said
"Once you get into that mindset the lack of confidence can take hold of you."
Declan started volunteering with the connector programme after he retired because he was scared of how loneliness might take hold of him.
"Whilst I am comfortable in my own company I was worried about becoming so institutionalised that when opportunities did arise again to reach out and reconnect that I might find myself reluctant to do so," he said.
"Even knowing that there's someone checking in regularly with them can give people a boost.
"It's as good for me as it is for them. Everyone benefits from everyone reaching out."
Although most of his work is with older women, Declan said he's just as worried about young people who may not have the confidence to get in touch.
"I remember the loneliest times in my life were whenever I was young, especially as a student," he recalled.
Eugene Diamond has countless conversations each day from behind the counter of his newsagents in Ballymena.
He said the Covid-19 lockdown killed the art of conversation, which makes him all the more enthusiastic about reaching out to check in with his customers.
"I had a conversation with a man who said that from the weekend prior when he came in to get his papers, I was only person he had had a conversation with," he added.
"Conversation helps people - there's no doubt about it.
"You may make a huge difference in someone's day with a wee yarn. There's a lot of lonely people out there."
Northern Ireland is the only part of the UK without a loneliness strategy.
More than half of those who took part in the British Red Cross survey said it should be a priority for the executive, which has yet to be formed following May's election.
The meetings come as Northern Ireland's political standoff continues. Sinn Féin won the most seats in last month's election, but the DUP, which came second, is refusing to re-enter a power-sharing executive until the party's concern about the Northern Ireland Protocol have been addressed.
Eddie Lynch, the Northern Ireland Commissioner for Older People, said: "Unless government takes steps to address this, it will only get worse in the future.
"Loneliness and isolation have been a growing problem in Northern Ireland for some time."
The commissioner also said failing to tackle the problem will increase pressure on the health service.
"Loneliness is linked to poor mental and physical health," he added.
"Interventions like a loneliness strategy can help people who are experiencing it, but as a whole it's a good thing for society and it will actually lead to a more healthy older population."
Sharon Sinclair, director for Northern Ireland at the Red Cross, said research had shown that major life changes can trigger loneliness.
"This is a crisis that can be averted if loneliness is prioritised in Covid-19 recovery plans, recognising the lasting effect it will have had on so many people."
It's an effect that Kathleen Hammond has already seen in her Adopt a Grandparent scheme.
"Older people need to feel that they are wanted... and it does your heart good," said Kathleen.
"People have got in touch who have lost their own grandparents to say they willing to adopt a grandparent so they can give the love that they gave to their own all over again."