Orlaith Quinn: Woman's death was 'foreseeable and preventable'
By Kevin Sharkey
BBC News NI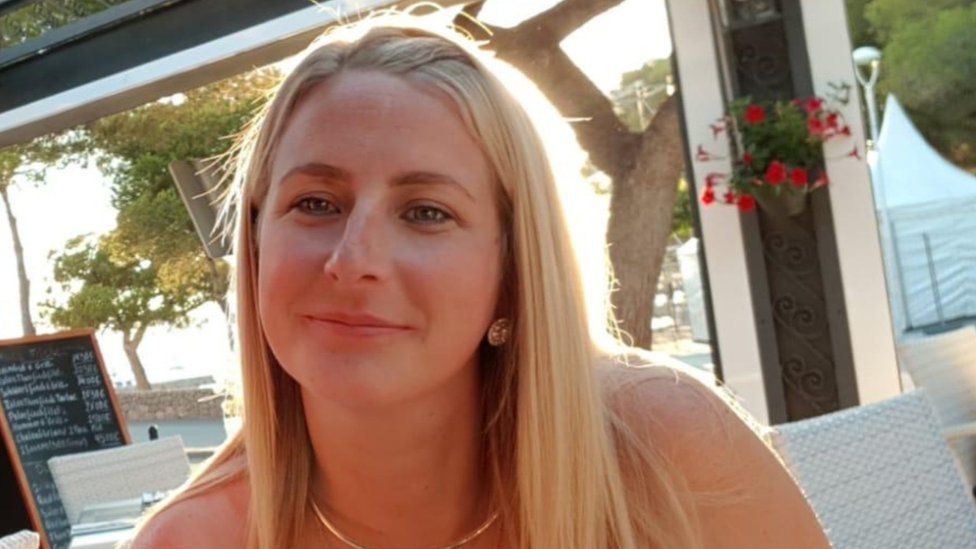 A coroner has found that the death of a woman who took her own life in hospital was "foreseeable and preventable".
Orlaith Quinn, 33, died at Belfast's Royal Jubilee Maternity hospital in the early hours of 11 October 2018.
She had given birth to her third child less than 48 hours earlier.
In a statement, the Belfast Trust said it would like to extend a "sincere and unreserved apology" and offer its "deepest sympathies" to Orlaith Quinn's family.
Mrs Quinn was the mother of three children - Conal, Aodhan and Meabh.
In October 2018, Mrs Quinn from Lagmore near Dunmurry, gave birth to Meabh at Belfast's Royal Jubilee Maternity hospital.
Her husband, Ciaran Quinn, had told the inquest that after the child was born, his wife was happy, breastfed her baby and bonded with the infant.
But he said his wife's behaviour changed and she subsequently became manic and uncontrollable.
Less than 48 hours after giving birth, Mrs Quinn was dead.
While in hospital, Mrs Quinn told family members she had attempted to take her own life three times, just five days before her daughter was born.
Thursday's inquest found that there was "a lack of a clear management plan" in the hospital to care for the young mother.
Mr Quinn told the inquest he has to watch the "hurt and pain" in his children's lives every day without their mother.
After Thursday's ruling, Mr Quinn read a family statement.
"It's been over three and half years since we lost my beautiful wife Orlaith," he said.
"For each and every day since we have strongly believed that Orlaith was failed by the very people who were supposed to care for her.
"Today was truly Orlaith's day because she finally got the truth that she deserved."
Mr Quinn said the verdict had confirmed the family's beliefs about what had happened.
"Most importantly, the verdict has confirmed that Orlaith would not have died on the night in question and would have fully recovered from the illness from which she was suffering," he said.
"Had my wife received the appropriate care she would still be alive today.
"We now expect a full and frank apology from the Belfast Trust and for them to accept accountability and responsibility for Orlaith's death."
Orlaith's mother, Siobhan Graham, added: "We lost our lives with Orlaith that day. Part of us died when Orlaith died. We live that every day of our lives.
"There's a duty of candour on all trusts to at least hold your hands up.
"They [Belfast Trust] were pulled, kicked, dragged screaming to the point where they had to admit that they failed Orlaith."
A spokesperson for the Trust said: "Belfast Trust would like to extend a sincere and unreserved apology to the family of Mrs Orlaith Quinn.
"We know this continues to be an incredibly painful time and we offer our deepest sympathies to them."