Easyjet: Airline cancels more flights to and from Belfast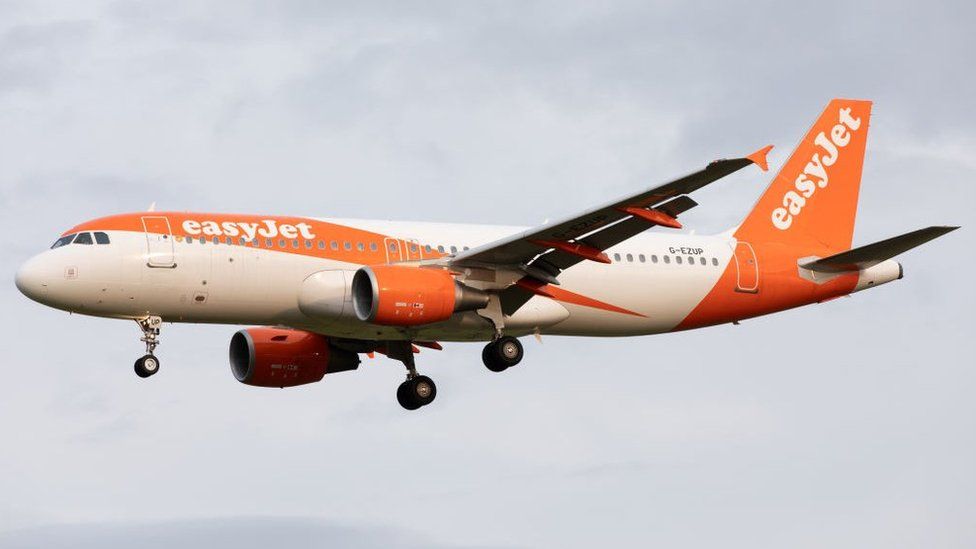 Easyjet has cancelled 12 flights in and out of Belfast International Airport on Thursday.
In a statement, the airline said it had encountered IT system issues which has had an impact on flights due to depart between 13:00 BST and 15:00 BST.
But flights due to arrive in Belfast after 15:00 BST have been cancelled.
Among those affected are journeys to and from Belfast International, Amsterdam, Bristol, Corfu, London Gatwick, Liverpool and Manchester.
About 200 of the airline's flights have been affected by the issue.
@easyJet are currently experiencing IT systems issues across their network. Some flights may be impacted.
Passengers due to travel with @easyJet should check easyJet Flight Tracker https://t.co/3z5mOnyPQG before making their way to the airport. 14:50

— Belfast International Airport (@belfastairport) May 26, 2022
Simon Calder, travel correspondent for The Independent, told BBC Radio Ulster's Evening Extra that the situation was "an absolute mess".
"This is the first time we've had a really big IT outage with Easyjet," he said.
"It comes at a time when it is already very, very highly stressed.
"It has got a lot of problems with staff shortages - there were a whole load of flights in and out of Gatwick Airport this morning that were cancelled simply because the airline did not have enough crew."
While replacement flights to destinations like Manchester and Liverpool are easier to find, flights to destinations such as Corfu are far more irregular.
"There's about 180 people waiting on that beautiful Greek island to go home," said Simon
"Some of them will be delighted that Easyjet is putting them up in a hotel and paying them cash compensation.
"Others will have things to get back to and will be getting really quite stressed, I fear."
Earlier IT systems issues had now been rectified, said a spokesperson for the airline.
"While we expect to operate most of our remaining flying programme some may still be subject to some disruption in the coming hours," they continued.
"We advise customers due to travel with us to continue to check Flight Tracker for the status of their flight before making their way to the airport.
"We apologise for the inconvenience caused and customers can apply for compensation in line with regulations."
The flights cancelled due to depart from Belfast International Airport are:
13:30 BST to Corfu
13:40 BST to Liverpool
15:25 BST to Manchester
16:25 BST to London Gatwick
17:30 BST to Bristol
18:45 BST to Amsterdam
The flights cancelled due to arrive at Belfast International Airport are:
14:55 BST from Manchester
15:50 BST from Liverpool
15:55 BST from London Gatwick
17:00 BST from Bristol
18:15 BST from Amsterdam
21:55 BST from Corfu