Covid-19: Text scam claiming to be from NHS circulating NI, police warn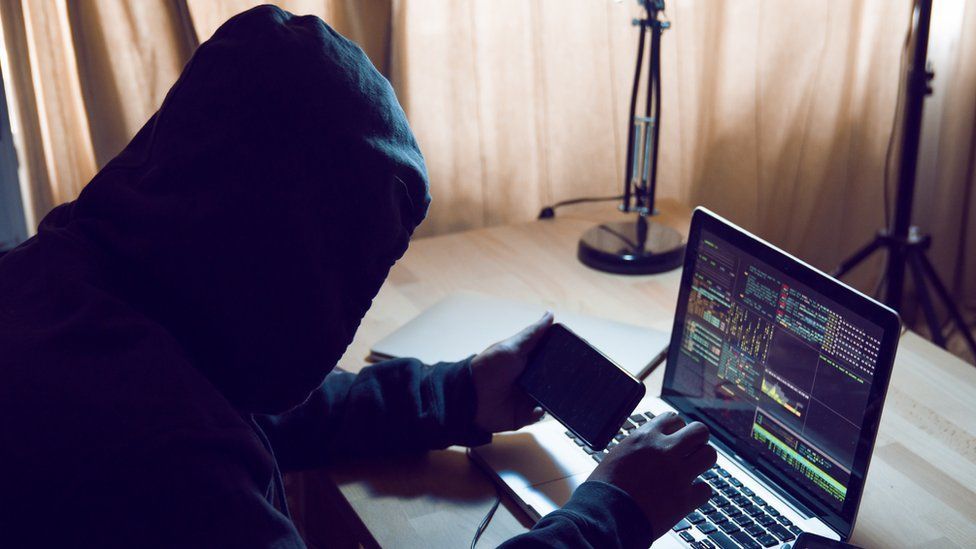 Police are warning people about a Covid text messaging scam that is circulating in Northern Ireland.
The message claims to come from the NHS and tells recipients they have been a close contact of a positive case.
They are advised to click a link and book a test, which takes the user to a website where they are asked to pay for the test.
The police warning comes as seven cases of "new variants of concern" have been detected in Northern Ireland.
"In relation to this particular scam, the NHS will never ask you to pay for Covid-19 tests, or ask for your bank details," PSNI Supt Gerard Pollock said.
"If you receive a text or email that asks you to click on a link, or for you to provide personal information such as your name, credit card or bank details, it's mostly likely a scam.
"Do not click the link. Delete the text or hang up the call."
'They piggy back on genuine messages'
Supt Pollock said it is also important to speak to older family members about the scam and what they should do.
Professor Kevin Curran, who is an expert in cyber security, said that these types of scams have become more and more prevalent since the pandemic, when the government used text messages to try to keep the public up to date on testing and vaccinations.
"So the scammers saw this as an opportunity because it was also new, something that we hadn't done before as a society, so they come along and they piggy back on the genuine messages.
"They create fake ones in which you are asking for people to pay fines because they were seen outside or asking people to pay for things like face masks and other stuff which would never arrive."
Karl Allen was shocked when he received the scam message telling him he had been a close contact of someone and needed to click on a link to pay for a PCR test.
"The initial reaction was, I better do something here. But when I clicked on the link to go through and it asked me to pay for the test with my credit card or bank card details, I suddenly thought that didn't seem right," he said.
Mr Allen said the message was very convincing as a government communication.
"But when we started to look at the NI government branding, it was close but it wasn't quite the same. So, thankfully, after a couple of conversations I decided this didn't seem right, so I didn't actually give my credit card details.
"I receive scam phone calls texts all the time, this one because it was sort of pushing the Covid button... I really don't want Covid - and because it looked so authentic - I was very close."
While there are some scams in which clicking on a link can result in malware being downloaded to a PC or device, Prof Curran said these are quite rare.
"The danger comes from when you actually follow-up on the link, enter personal details and also hand over money," he said.
"The worst case scenario is that you lose all your money."
Meanwhile, seven cases of new Covid-19 variants, BA.4 and BA.5, have been detected in Northern Ireland.
The variants, which both come from the main Omicron variant, have been described as "variants of concern" by UK health officials.
The UK Health Security Agency said the variants "are likely to have a growth advantage over BA.2".
However, it cautions that this is based on a small number of cases, and there is still a lot of uncertainty. It says there's no data showing they may be more harmful.
For more than two years the Department of Health statistics have provided some insight into the progression of the pandemic.
Although publishing this data has ended, Covid-19 health officials will continue to monitor variants of concern.