Ulster University: Staff involved in boycott face losing pay
By Robbie Meredith
BBC News NI Education Correspondent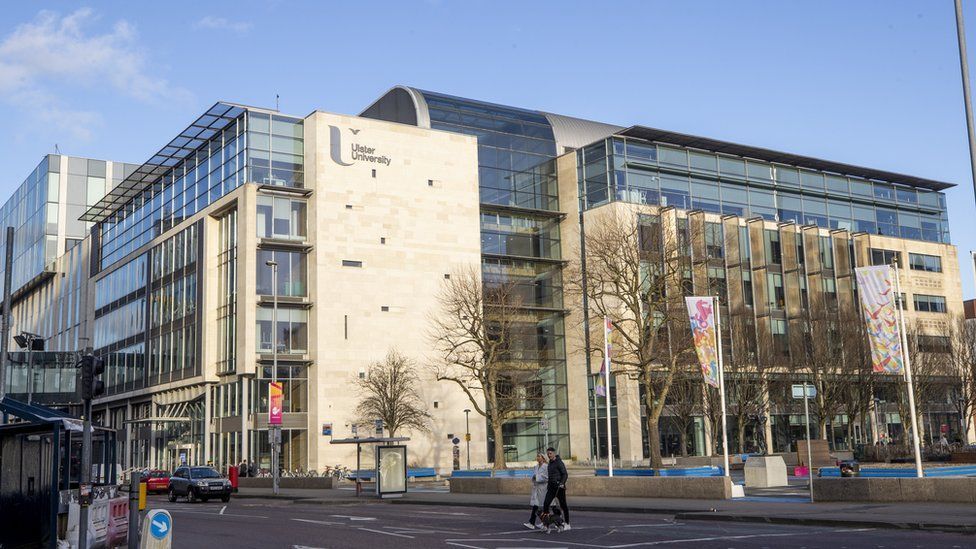 Some staff at Ulster University (UU) face being deducted all of their daily pay for taking part in industrial action short of strike.
Members of the University and College Union (UCU) are to boycott marking and assessment of students from 23 May.
The university said it would "deduct 100% of salary for each day that a member of staff" took part.
But the union said that the "punitive response by the university will significantly escalate the situation".
They have also accused the university of a "lock out" of staff involved in the action.
The union has said that university staff pay has faced a succession of real terms reductions and staff are also facing cuts of 35% to their pensions.
Union members at UU are due to take part in a marking and assessment boycott from Monday along with union branches at some other UK universities.
However, the UCU branch at Queen's University is not taking part in that particular boycott.
Staff at UU have received an email which states "the university is of the view that a marking and assessment boycott is a fundamental breach of contract".
It added: "The university does not accept partial delivery of contractual responsibilities and will therefore deduct 100% of salary for each day that a member of staff participates in a marking and assessment boycott.
"If a member of staff is participating in a marking and assessment boycott, we do not require them to undertake any other duties."
"If they are not undertaking their marking and assessment duties, then they have withdrawn their labour and will not be remunerated."
The UCU president at UU Adrian Grant said it was "hard to believe that an employer would engage in locking out its employees in 2022".
"I strongly urge Ulster University to rescind this deplorable threat to our members and re-engage with UCU in a constructive manner," his statement continued.
"University staff go above and beyond to support our students.
"That our employer would do this to its staff, especially those on casual, low paid contracts, in the midst of the biggest cost-of-living crisis for decades is shocking."
But in a separate statement, the university called the boycott "deeply disappointing" and said they had been working with the university's UCU branch for some time.
"Our students are at a pivotal milestone in their lives," the UU statement said.
"Having withstood some of the harshest challenges of the last few years, they are now poised to begin the careers they have worked for and many are holding offers of employment that are contingent upon their degree award.
"We hope that can still happen for all of our students."
The university also called on the UCU branch to "reconsider" the boycott.