Aidan McAnespie: Ex-soldier wants Troubles case thrown out
By Julian O'Neill
BBC News NI Home Affairs Correspondent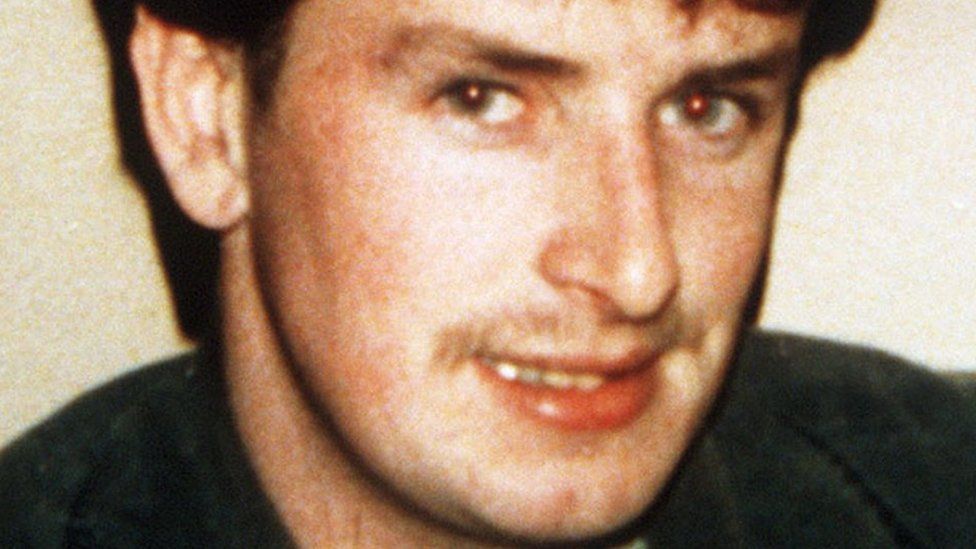 A lawyer for Army veteran David Holden, on trial in Belfast over a fatal shooting during the Troubles, has argued to have the case thrown out.
Mr Holden, 52, denies the manslaughter of Aiden McAnespie near a checkpoint in County Tyrone.
The defendant's lawyer claimed there is "a huge void" in prosecution evidence, including lost records.
He also contended there has been an abuse of process connected to a dropped case 34 years ago.
Mr McAnespie, 23, was hit in the back by a bullet which ricocheted off the road as he walked to a Gaelic football match outside Aughnacloy in 1988.
Mr Holden was 18 at the time and serving in the Grenadier Guards.
He has claimed his hands were wet and his finger accidentally slipped on the trigger of a mounted machine gun he was manning inside a sangar.
On Wednesday, Mr Holden's lawyer made a number or arguments for the case to be discontinued.
He told Belfast Crown Court that vital records have been lost which would have shown the full extent of Mr Holden's weapon's training.
This included the guard "handover drill" and checking the safety catch of the machine gun, the lawyer said.
He went on to state: "I do not believe, apart from the most simple road traffic accident, I have ever come across a case with less exhibits."
He further argued that the memory of witnesses had "diminished", given the trial was taking place decades after the event.
The defence lawyer also alleged there had been an abuse of process.
He said Mr Holden, having had a manslaughter charge dropped in 1988, was subsequently disciplined by the Army under legislation from 1955.
This saw him fined for a negligent discharge of a weapon.
His lawyer claimed this court martial meant he could not be tried again "for an offence substantially the same".
However, a prosecution lawyer told Mr Justice O'Hara that "disciplining a soldier for a service offence" does not qualify this as "a double-jeopardy case."
He also dismissed the assertion that there is insufficient evidence.
"This is not a whodunnit trial," he said.
"There is no issue that he (Mr Holden) pulled the trigger and we know the deceased was killed by the machine gun."
The case has been adjourned until Friday.