Translink: Bus strike suspended after new pay offer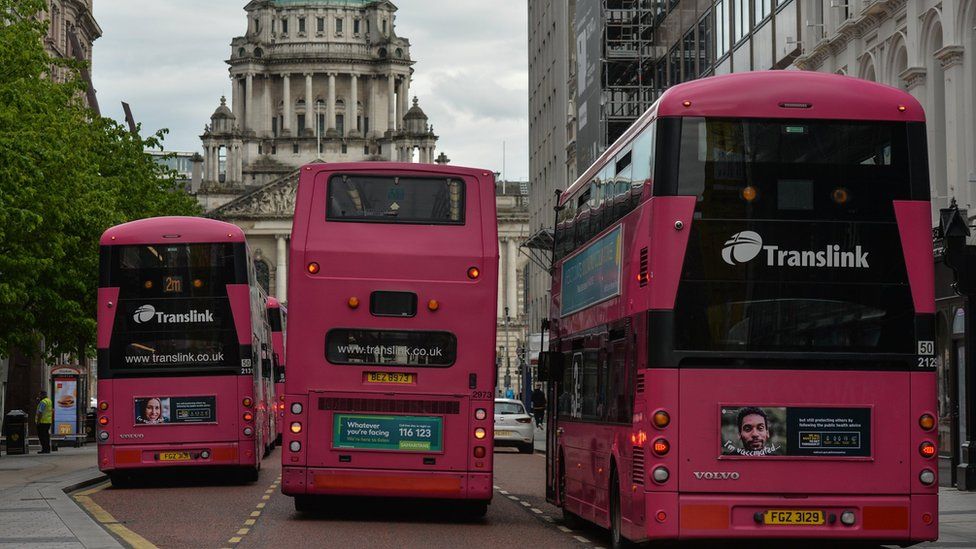 A Translink bus strike due to begin on Tuesday has been suspended.
All bus services, including Translink, Ulsterbus, Metro, Goldline and Glider services had been due to be cancelled from 17-23 May.
But on Monday afternoon, GMB said it had called off the strike after Translink put forward a revised pay deal.
In a statement, Translink said it was pleased to have found "a way forward".
The GMB and Unite unions had predicted a "complete shutdown" of Northern Ireland's bus network. They are now preparing to ballot their members on the latest offer.
Peter Macklin, GMB regional organiser, said the company had made an improved offer.
"As a gesture of goodwill, industrial action has been suspended until workers have voted on the new offer. If they accept it, the strikes would be cancelled completely.
"But if they turn it down, GMB will meet with members immediately to discuss new strike dates."
Translink workers voted to strike through the unions after rejecting a pay offer from the company last week.
The unions said their workers needed help to tackle the cost of living crisis and had asked for a 6% pay rise.
In a statement on Monday, Translink said their revised offer acknowledged workers' "concerns over increasing inflation and the cost of living while also supporting wider business needs."
"We welcome this constructive engagement with our unions," the statement said.
"Preventing this industrial action has been of the utmost priority for the company. We are pleased to have found a way forward that will enable us to build back public transport for a more sustainable and better future for all".
The strike would have caused problems for school children who use public school buses - and parents had been advised to arrange alternative travel.
About 55,000 primary and post primary children would have been affected by the strike, including AS and A-level exam students.
"While I fully recognise and respect the rights of trade unions to take action on issues that matter to them and their members, I am pleased that an agreement has been reached to avoid strike action this week," he said.
"Public transport services are a very important part of everyday life for our citizens and I am pleased that the disruption to those services has been averted. I commend all sides for their hard work in reaching this agreement."
Robbie McGreevy from the Education Authority (EA) said it was welcome news that the strike had been suspended.
"All Translink bus services, including school buses, as well as EA's 'yellow' bus services, will operate as normal and pupils should travel via their usual transport arrangements," he said.
Businesses had also been bracing themselves for the strike action.