Balloughry Primary School earmarked for closure in 2023
By Robbie Meredith
BBC News NI Education Correspondent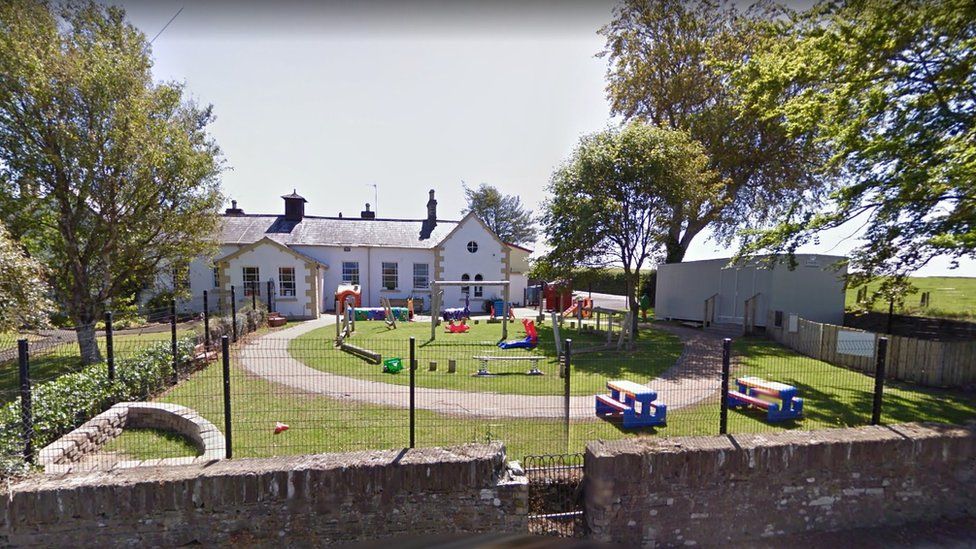 A primary school in Northern Ireland with some pupils from County Donegal has been earmarked for closure.
The Education Authority (EA) has published a plan to close Ballougry Primary School in County Londonderry in August 2023.
The EA said the 44-pupil rural school, about a mile from the border with the Republic of Ireland, was unsustainable.
Some children travel three miles from Derry to attend the school and it also has six pupils from County Donegal.
The EA is responsible for planning the future of schools in Northern Ireland.
That can involve deciding to expand a school, by giving it more places for pupils, or deciding to close a school which it judges to be unsustainable.
Falling pupil numbers or a rising financial deficit are among the reasons a school can be earmarked for closure.
However, a consultation on change of that kind has to be carried out first and that is what is happening in the case of the Ballougry Primary, which is over 150 years old.
The EA said that with only 44 pupils and three teachers, the school is well below the Department of Education's (DE) recommended number of 105 pupils for a rural primary school.
The authority also said that the controlled school's financial deficit was likely to rise to about £250,000 by 2024.
Its plan to close the school stated that pupils from Ballougry could attend primaries in Derry city instead, where they would have more educational and extra-curricular activities.
The EA also said that closing the school would save money.
However, as well as having pupils from County Donegal, Ballougry is in a shared education partnership with two schools in the Irish county.
Its children take part in regular activities with pupils from St Joseph's National School in Rathmullan and Ayr Hill National School.
Meabh Owens's daughter is a pupil at the school while she is also a former pupil. She told BBC Radio Foyle she'll fight to keep the school open.
"As parents, we want the best for our children," she said.
"Having an integrated education in 2022 is really important. If they close it, our parents are all faced with the decision of taking a green or an orange education for their kids and that is not what they wanted".
She added: "What we have at Balloughry, we simply cannot get anywhere else - we cannot get the rural environment, the integrated environment, Balloughry has something special I haven't found anywhere else".
Ballougry's governors have also argued that they have a plan to increase pupil numbers at the school.
But the EA has now begun an eight-week consultation on their proposal to close it.
However, a future education minister will ultimately decide whether the school shuts its doors. A final decision is expected in January 2023.