Londonderry: Attempted murder arrest after officers hit by car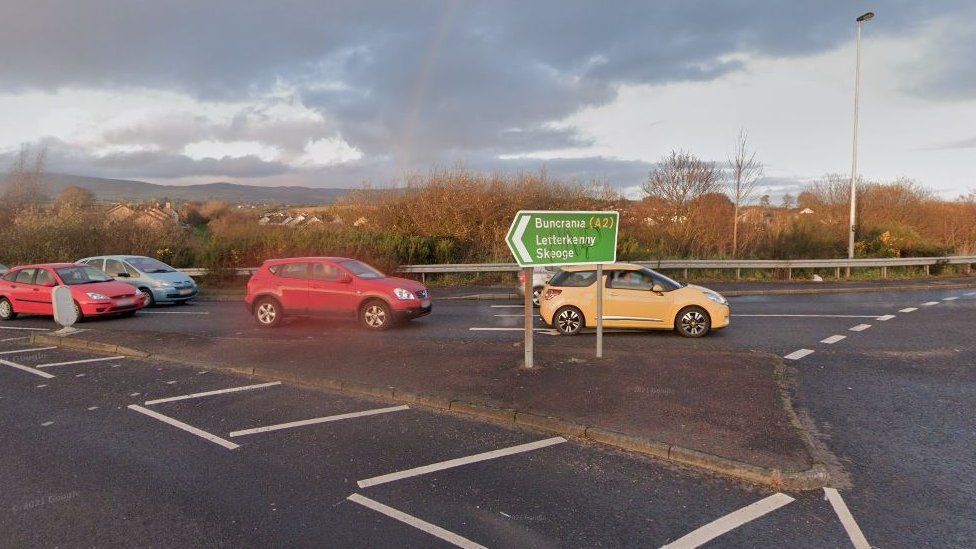 A man has been arrested after a police officer was injured when he was carried for up to 30m on the bonnet of a car in Londonderry on Monday.
A second officer was also hurt after he was struck by the vehicle on Skeoge Link Road.
Police had been alerted to the manner in which a car was being driven.
The man, 28, has been detained on suspicion of attempted murder, assault on police and dangerous driving.
He is also accused of driving while disqualified and using a motor vehicle without insurance.
One of the officers sustained injuries to his hand, elbow and hip.
Earlier on Wednesday, the chair of the police federation said greater protection was needed for officers because of an increase in "violent assaults".
Mark Lindsay said some of the incidents, particularly in Derry, could have killed police officers.
The petrol bomb was thrown directly at the officer as police attended the scene of a house fire in Creggan.
Police vehicles were also targeted with petrol bombs following an Easter Parade staged in the city last month.
A police vehicle was also damaged last week after a group of up to 30 people - mostly youths - gathered at the scene of a car accident in Creggan and threw masonry at officers.
"What we have seen in the Foyle area has been the use of petrol bombs," Mr Lindsay told BBC Radio Foyle.
"These are all incidents which can actually kill."
Mr Lindsay believes tougher sentencing on those who attack police officers would help, but stressed that "sentencing isn't the only answer".
The federation's chair suggested there must also be "a realignment of social values" and said a cultural acceptance of violence on officers needs to change.
"I think there's an acceptance that it's all part of the job," he continued.
"Any democratic society has to have a proper police service and we have a police service that works very much with our communities.
"But when some elements of that community turns on policing then I think it is incumbent that those with political influence do everything they can to ensure that we move away from this.
"These officers are members of their own community, these officers are drawn from right across society, and they shouldn't be subjected to this for simply trying to do their jobs."
'Completely unacceptable'
Police Service of Northern Ireland (PSNI) Supt Marty Reid said any assault on an officer is unacceptable and "should never be tolerated as just part of the job".
He said when an attack does take place everything possible is done "to ensure the right welfare and support system is in place for officers when they need it".
"It is also important to note that when one of our officers is injured and is off work, that can have an impact on our capacity regarding service delivery," he said.
"However, that will not prevent or deter our officers continuing to work every day to keep people safe."
Supt Reid urged "anyone with influence" to help prevent further assaults and to "help get the message across that police officers being attacked or assaulted is completely unacceptable".