NI election 2022: Campaigners say change needed to get more women into Stormont
By Jayne McCormack & Luke Sproule
BBC News NI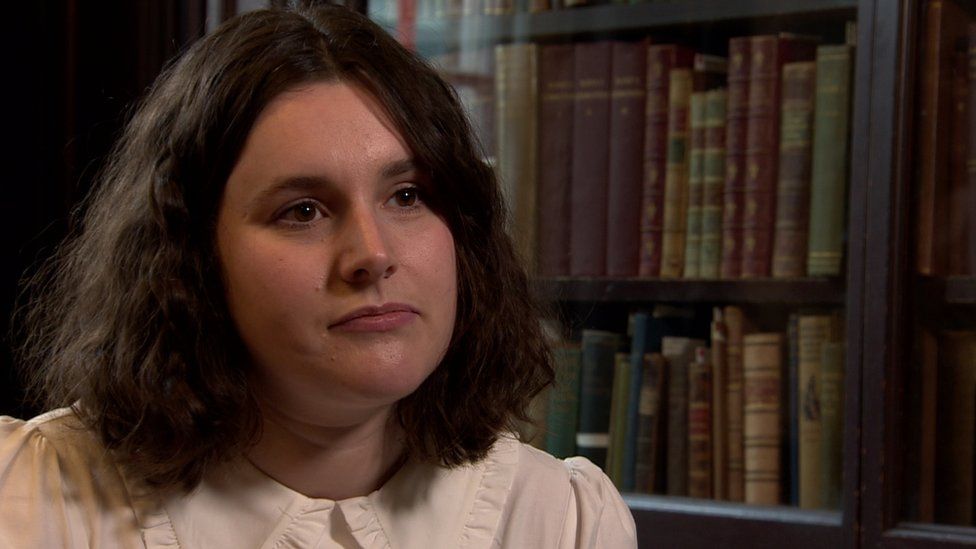 A record number of women - 87 - are standing in the Northern Ireland Assembly election on 5 May.
That is 17 more than the last election five years ago and is just one example of how things have changed since the assembly was set up 24 years ago.
At the first election in 1998, just 14 women were elected as members of the legislative assembly (MLAs) - representing 13% of the total of 108. It is now just under one-in-three.
Campaigners say it is a welcome improvement but much more needs to be done to break down the barriers which stop many women running for office.
'It wasn't a pleasant place'
She was co-founder of the party, which was formed in the 1990s as talks to bring the Troubles to an end intensified. A professor of women's studies at Ulster University, she said that at the time it was difficult for women to enter the political arena.
"I felt like I had to put on body armour because there were so few women there," she told BBC News NI.
"It wasn't a pleasant place, but we had to stand up and speak out. It almost seemed we had to remind them that democracy meant inclusion, it meant having more women as role models.
"It was misogyny, we were coming from a patriarchal culture where a women's role was as as mother, not a decision-maker - but politics is better for it when we combine those roles."
She added she was glad the number of women in politics in Northern Ireland had risen significantly since she was an MLA.
"Things happen to women that don't happen to men, and it needs to be on the agenda - I am delighted to see so many women standing and I hope we'll have even more of them returned after the election," she said.
'Women face many barriers'
50:50 NI is a group that works to increase the number of women represented at all political levels across Northern Ireland.
Its chief executive, Aoife Clements, said while the increase in the proportion of women in the assembly was welcome, there was much room for improvement and that there were still many barriers to women standing for election.
"Some of the biggest barriers are that it is not the most women-friendly profession, it does not really fit with women's lived realities very well," she said.
"There are long hours, childcare is really hard to get for these strange hours MPs and MLAs are doing."
Ms Clements said when she spoke to women through 50:50 NI, every one of them had told her they did not think they could get involved in politics.
"They say: 'I wouldn't have done it if it had not been for someone encouraging me, I didn't think I was qualified enough, I didn't think I was smart enough'," she said.
"Women don't take it for granted that they can do it, but men seem to do that."
She added that abuse on social media - including harassment, trolling and sexually inappropriate messages - was a major problem.
"Some members of Stormont have told me they would not have stood for election if they had known how bad it was going to be and that they might not run again, which is not good enough," she said.
Ms Clements said men "needed to wake up and realise that a woman's place is in the assembly" and that while things would improve as more women were elected, men also needed to push for change.
It took a while for the number of women in the assembly to increase significantly after the election of just 14 in 1998.
At the second assembly election in 2003, four more women were elected, bringing the total to 18, or 16.7%.
The figure remained the same in 2007 and rose by two to 20 - 18.5% - in 2011.
That election was also the first contested by a sitting female first minister, Arlene Foster.
A year later a snap election came along after the assembly collapsed. It was the first election where fewer seats were being contested after the number of MLAs was cut from 108 to 90, so even though the number of women decreased to 27, they made up more of the total - 30%.
How does the assembly compare?
By the time the assembly was dissolved in March ahead of the upcoming election there were 33 women, including those who had taken office to replace MLAs who had died or resigned during their term.
That represented 36.7% of the total size of the assembly - a figure higher than the 34.6% of women who are MPs in the UK Parliament at Westminster.
The Scottish Parliament has the highest proportion of female representatives of the UK legislatures - 45% - while in the Welsh Parliament 43.3% of members are women.
In the Republic of Ireland's lower house of parliament - the Dáil - 23% of TDs (MPs) are women.