The Northman: Nicole Kidman Viking saga turns NI into Norse epic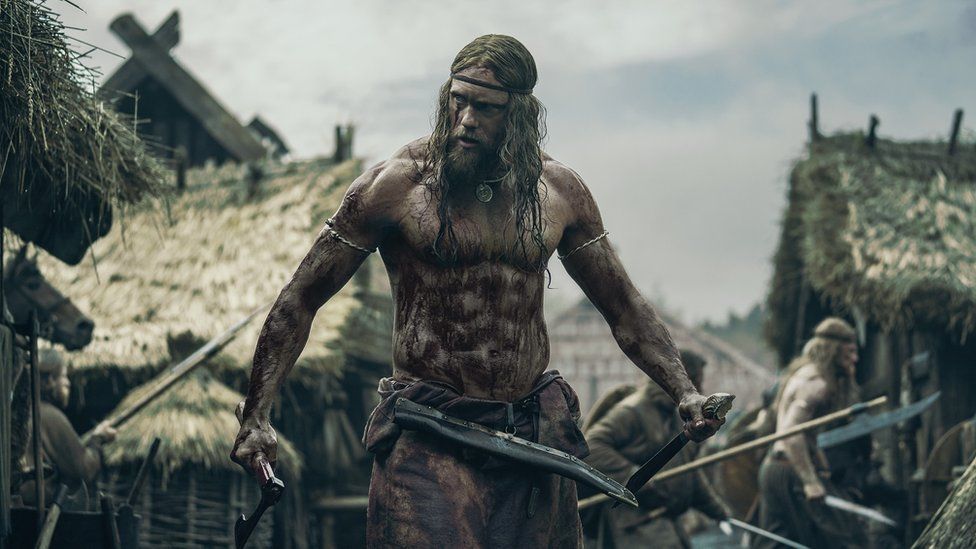 It's billed as a brutal tale of betrayal and revenge - and while The Northman may mostly be set in Iceland, the Viking saga is another feather in Northern Ireland's filming cap.
Directed by Robert Eggers, and featuring an all-star cast including Nicole Kidman, Ethan Hawke and Alexander Skarsgård, the project was filmed in Northern Ireland in 2020, employing nearly 450 locally-resident crew.
It was produced by Mark Huffam, the Ballyclare-born producer who helped to bring Game of Thrones to Northern Ireland.
He was instrumental in convincing Eggers, whose previous directorial efforts The Witch and The Lighthouse were critically acclaimed, to make the film in Belfast and beyond.
"The film takes place in northern Scotland, Ukraine, and Iceland," Eggers told BBC News NI's Good Morning Ulster programme.
"And Mark Huffam said: 'I can find all that for you in Northern Ireland.'
"I mean, there were certain things we had to shoot in Iceland that can only be Iceland, but there's a lot of Northern Ireland for Iceland.
"A lot more, in fact, than I originally wanted, but because of Covid the main unit couldn't shoot there.
"You know, me and Alex (Skarsgård) and Anya (Taylor-Joy) didn't get to Iceland until after we'd wrapped principal photography.
"But the landscapes in Northern Ireland were completely incredible. To be able to build these massive sets, like on Torr Head - it's kind of a dream come true."
As well as using locations such as Shane's Castle, the Clandeboye Estate, Knock Dhu mountain and Sandy Brae, the film also used Belfast's Harbour Studios.
Eggers is known for asking a lot of his actors - indeed Skarsgård had to eat five times a day just to maintain his strength for the physical demands of a film full of Viking battles and Norse mythology.
"People either want to work with me or they don't," he said.
"And that's fine, but the people who are choosing to work with me are super passionate - and they need to be, you know.
"And I think, now, I have sort of a brand so people know what it means.
"Luckily, Alex and Anya Taylor-Joy and Nicole (Kidman), they wanted to be a part of this.
"Nicole, the first day on set for her, she was on horseback all day.
"It was one incredibly complicated shot that we just did over and over all day long until sunset with the worst wind conditions we'd had on the shoot. But I think she was into it."
Difficult shooting conditions aside, Kidman spoke fondly of her time filming in Northern Ireland on social media and said she would return.
Eggers too said he would "absolutely come back to Northern Ireland to make films again".
"The crew there was totally fantastic and completely dedicated. The finishes on the sets are out-of-this-world realistic.
"So I would be incredibly happy to come back to make a film in Belfast and hopefully in that Covid-free environment where I can actually enjoy the city some more."