Transfer tests: Eight post-primary heads to run new common test body
By Robbie Meredith
BBC News NI Education Correspondent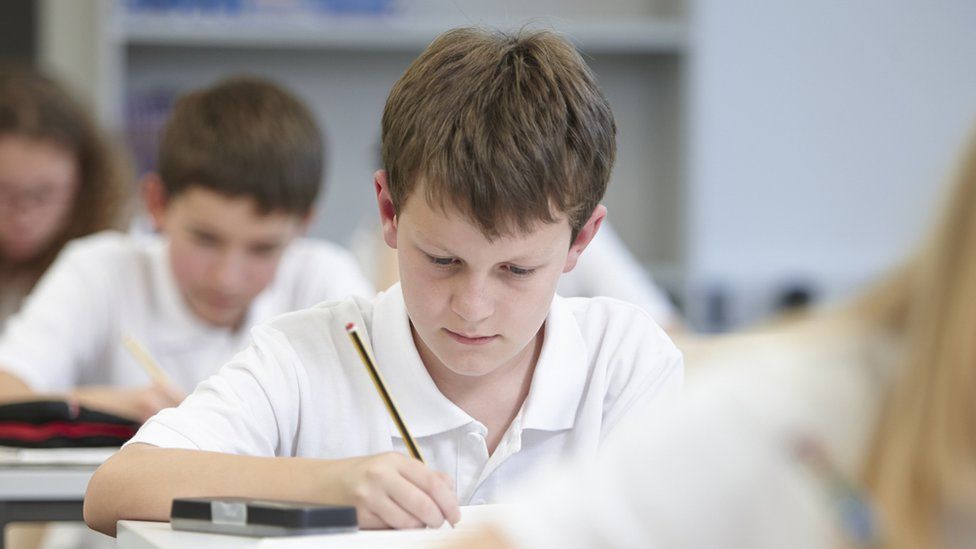 Eight post-primary school principals will run the new body set up to hold a common transfer test from 2023.
The Schools' Entrance Assessment Group (SEAG) has just been registered as a private limited company with Companies House.
Companies House is the UK's register of firms and their directors.
The first common transfer test is due to be held in November 2023 and will end the current system of separate AQE and PPTC tests.
Since it was scrapped, two separate tests - one run by AQE, the other by PPTC - have been used by selective post-primary schools to admit pupils.
The test is due to take place on the second and fourth Saturdays in November 2023, and will feature English and maths questions with a mixture of multiple choice and written questions.
The cost to parents to enter their child for the test will be £20 but entry will be free for pupils who are entitled to free school meals.
According to documents filed at Companies House, he is joined as a director by seven other post-primary principals.
They are the heads of Our Lady and St Patrick's College Knock, Royal School Dungannon, Campbell College, Foyle College, Down High School, Dominican College Belfast and Victoria College Belfast.
None of the directors will receive a salary for their role.
The documents also state that the company objective is to "procure the setting, conducting and marking of an assessment instrument to assess the academic ability of children proposing to transfer from primary to post-primary education in Northern Ireland".
The education testing company GL Assessment will provide the transfer test for SEAG.
The principals are also responsible for ensuring that pupils who want to enter the test are registered and with providing results to them.
The main responsibilities of Companies House are to incorporate and dissolve limited companies, examine and store company information and make information available to the public.