Covid-19 pandemic hit outlook for lung cancer patients
By Marie-Louise Connolly
BBC News NI Health Correspondent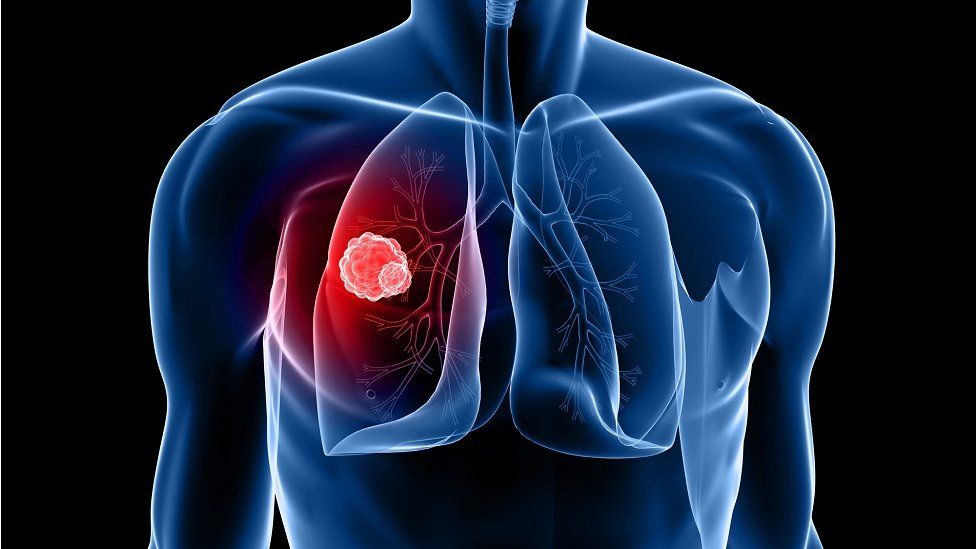 The pandemic affected the treatment and prospects of lung cancer patients, a report by the NI Cancer Registry shows.
Surgery was down by 40%, affecting an estimated 52 patients, while radiotherapy treatment fell by 27%.
While lung cancer numbers have been increasing year on year, there was a reduction during lockdown.
People who are concerned about symptoms, which include a lingering cough or coughing up blood, are urged to seek professional help.
Northern Ireland saw 1,316 new cases of lung cancer diagnosed in 2020 - a reduction of 77 cases from the previous year.
According to the report by the Northern Ireland Cancer Registry, the reduction occurred between April - December 2020 when Covid-19 affected the population and cancer services.
Dr Anna Gavin, who was involved in compiling the report, the number of patients coming forward were "reduced possibly with the stay at home messages, reorientation of health services".
There was added difficulty as the symptoms of lung cancer are similar to those of Covid.
In addition, Covid patients were cared for in ICU beds which were not available for routine care.
The report stressed the services had "made great strides to recover."
During lockdown in April 2020, there was a 35% fall in lung cancer cases diagnosed compared with the average for the previous two years - 37 cases in April 2019 and 58 in 2018.
The impact of the pandemic on patients' treatment is stark - 952 cases were diagnosed between April - December 2020.
However among those patients surgery was down by 40% and affected an estimated 52 patients.
Chemotherapy reduced by 7% which affected 18 patients, while radiotherapy was reduced by 27%, affecting an estimated 92 patients.
Some 40 men and women - an increase of 8% compared to previous years - did not receive any treatment.
Dr Wendy Anderson is the Northern Ireland spokeswoman for the UK Lung Cancer Coalition.
She described the figures as "concerning" but said they were not unexpected.
Dr Anderson said it was harder to diagnose lung cancer in the middle of a Covid pandemic as some of the symptoms are similar.
"If you have a new cough or a changed cough for two or three weeks that you haven't got a reason for you need to speak to your GP," she said.
"Likewise if you cough up any blood, and that particularly apples to people over the age of 50 and particularly applies to smokers - it applies to women and men both".
How dangerous is lung cancer?
Lung cancer is the most common cause of cancer death around the world, with 2.1 million people diagnosed in 2020 and 1.8 million deaths.
Experts say the most dangerous thing about lung cancer is patients often do not have symptoms until it is too late to be cured.
Source: Cancer Research UK
What are the symptoms of lung cancer?
There are usually no signs or symptoms in the early stages of lung cancer but they do develop as the condition worsens.
The main symptoms of lung cancer include a cough that does not go away after two or three weeks and gets worse, reoccurring chest infections, aches or pain when breathing or coughing and persistent breathlessness and tiredness.
The number of people presenting late with cancer also increased.
Between 2018-2019 and 2020 the number of cases diagnosed at Stage 4 increased by 4% from 439 cases to 456 - a significant increase according to the report.
Those living in deprived areas were worse affected.
Between 2018-2019 and 2020 the number of cases among residents of the least deprived areas decreased by 22% from 162 to 127.
Other symptoms associated with lung cancer include unexplained weight loss, a new lump, change in bowel habit, difficulty swallowing and blood in your pee or poo.