Nasa: Belfast mathematician working towards her astronaut dream
By Mike McBride
BBC News NI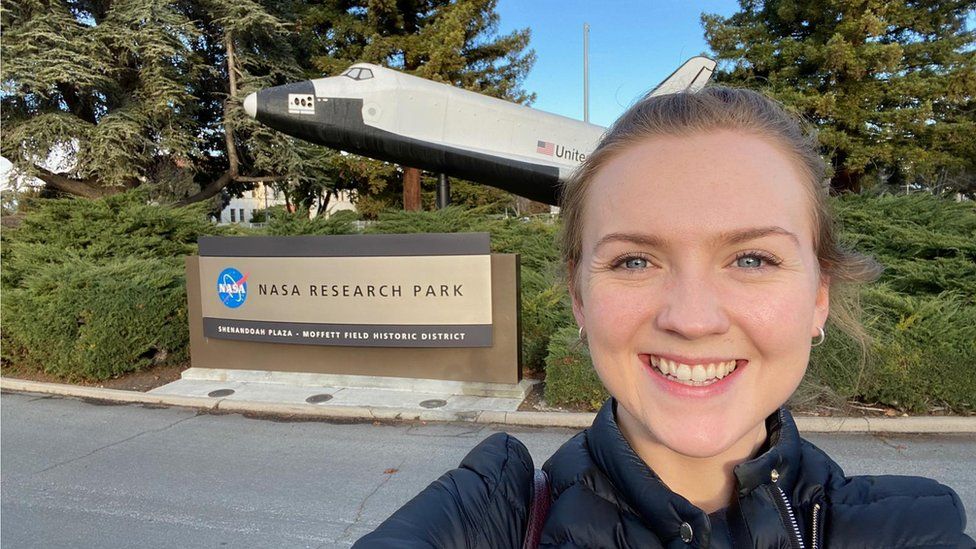 Maths might be an alien language for some people - but a Belfast woman is hoping it will be her ticket to the stars.
Dr Caoimhe Rooney works at Nasa's Ames Research Center in the United States.
The 29-year-old is hoping her ability with numbers will add up to her one day becoming an astronaut.
If she succeeds, Dr Rooney could become the first person to boldly go where no person from Belfast has ever boldly gone before.
But, as one of more than 22,000 applicants for four positions on the European Space Agency (ESA) Astronaut Corps - well, you don't have to have a maths PhD to know it's a bit of a long shot.
Dr Rooney, who has a PhD in applied mathematics from Oxford University, is involved in looking at how distant planets were formed, what they are made of and whether they could sustain life.
The former student of Sullivan Upper School in Holywood, County Down, works in the planetary system branch of Nasa looking at planets outside of our solar system.
She wants to dispel the myth that maths is boring and prove that it really is "the language of our universe".
Speaking to BBC News NI, Dr Rooney said that after initially falling out of love with the subject, it was a very special teacher - Mrs Anderson - who reignited her passion in calculus.
"It wasn't until GSCE when I got a really amazing teacher who reinstilled that love of maths, who showed me I could do it and more importantly that it was a lot of fun," she said.
Dr Rooney then went on to study pure maths at Trinity College Dublin before studying for her PhD at Oxford.
She then set out to find a job that combined her two greatest passions - maths and space.
"Growing up I loved space, but there wasn't many obvious opportunities for a profession in that here in Northern Ireland," she said.
"I started looking at opportunities in Nasa, thinking: 'You know what, I'll just go all in.'
"And I found that they were actually looking for mathematical modellers.
"The role was right up my alley and I just had to convince them that I had the mathematical capabilities to do what they wanted."
Dr Rooney's role at Nasa involves researching planets outside of our solar system, also known as Exoplanets.
"These planets are light years away so Nasa can't send a space probe to take pictures, they need to use powerful telescopes to detect light that is reflecting off of them," Dr Rooney said.
"We then break this light up into its different wave lengths and, by looking at the breakdowns of this light, we can look at what the planet's atmosphere is like, its climate and if there are signs of life."
When asked if they have discovered any extra-terrestrial beings yet, Dr Rooney said she is asked this question more than any other.
"That is the ultimate question, could there be other forms of life in the universe? But the forms of life people are thinking of aren't little green men with four eyes, it's more than likely microbes or bacteria," she said.
In space no one can hear your calculator
Dr Rooney has recently applied for the ESA Astronaut Corps - a programme to select and train European astronauts for space missions.
"Unlike most people, I didn't quite grow out of my child-like dream of wanting to work as an astronaut," she explained.
"I never really thought it would be an option, but when that opportunity came up earlier this year I had to throw my hat in the ring.
"However, with over 22,000 applicants for just four positions, I am just focusing really on how to maybe potentially strengthen my application for next time."
Dr Rooney is not pinning all her space hopes on just one scheme - in February, she will be involved in the PoSSUM Science Astronaut programme.
It trains people to conduct astronautical research in suborbital flight.
"I will still get an opportunity to wear a space suit in the coming months regardless of whether ESA decides to make me an astronaut or not," Dr Rooney said.
Dr Rooney wants to see more young women get involved in the STEM subjects (science, technology, engineering and maths) and is using social media to inspire the next generation.
She and fellow mathematician Dr Jessica Williams, who she met at Oxford, run a website called Mathematigals.
The aim of the website is to post free videos, quizzes and informative lessons with the aim of seeing more young women join them in their respective fields.
"If you like maths you can also do ballet, if you want to be a Nasa scientist you can also like the colour pink," Dr Rooney said.
"If you're interested in something don't be put off by stereotypes, STEM and science needs more girls, there is space for everyone."