Brexit: Labour warns against triggering Article 16
By Jayne McCormack
BBC News NI political correspondent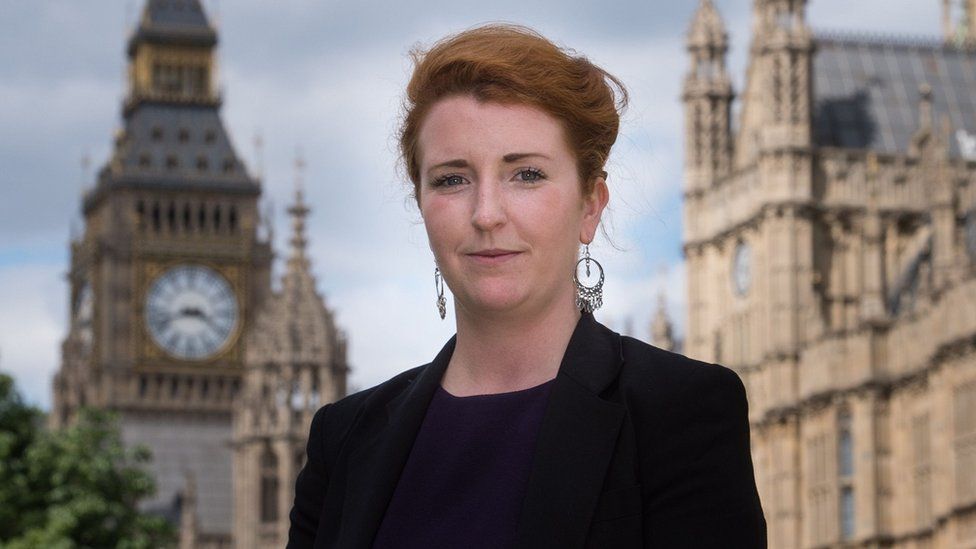 Labour has warned the government against triggering Article 16 of the Northern Ireland Protocol, saying it would provoke "poisonous instability".
Shadow Northern Ireland Secretary Louise Haigh made the comments during a speech in Belfast.
There is growing speculation that Downing Street could act by the end of November unless talks with the EU make progress.
Article 16 is a safeguarding mechanism within the Northern Ireland Protocol.
But Ms Haigh said invoking it "would not end this dispute or this uncertainty - it would prolong and deepen them both".
The protocol is a post-Brexit trading arrangement specific to Northern Ireland but the UK wants changes to the deal it agreed with the EU in 2019.
The deal struck two years ago was aimed at preventing a hard border on the island of Ireland but critics argue it is disrupting trade and undermining Northern Ireland's position within the UK.
Article 16 of the Northern Ireland Protocol is a measure that allows either the UK or the EU to take unilateral action if they believe the arrangement is causing serious problems.
The UK's Brexit Minister Lord Frost is due to meet his EU counterpart Maros Sefcovic on Friday, with the talks in their fourth week.
The EU has promised a "clear response" if that happens, with the Republic of Ireland saying it has begun making contingency plans.
'People want solutions, not stand-off'
Labour has repeatedly said it opposes the government using the mechanism, with Ms Haigh repeating that call on Thursday.
Speaking at Queen's University in Belfast, she accused the Conservatives of sowing division and undermining stability in Northern Ireland.
"With tension rising in Northern Ireland and a cost-of-living crisis across the rest of the UK - the last thing that is needed is more poisonously instability and the prospect of a damaging trade dispute with our nearest trading partners," she added.
"People and businesses are pragmatic - they want solutions, not a stand-off, so the government must not ventriloquise for people and for communities who they have shown little understanding of."
Ms Haigh also urged Stormont to convene a citizens' assembly to focus on integrated education and housing in Northern Ireland.
That agreement, which restored power-sharing, included a pledge to hold a citizens' assembly every year, but it has not yet happened.
Such forums are used to improve civic engagement and allow members of the public to discuss issues that politicians usually cannot agree on.